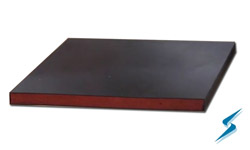 SE65-CON is a carbon filled electrically conductive silicone rubber with a durometer of 65 on the Shore "A" scale. SE65-CON is typically used to dissipate or more specifically ground out static while providing some compliance and cushion. SE65-CON can be bonded to a conductive surface (aluminum or steel) using Stockwell Elastomerics' RTV60-CON which is also a carbon filled silicone based RTV (room temperature vulcanizing). Bonding SE65-CON with RTV60-CON makes a very intimate and strong bond when the surfaces are prepared properly.
Silicone has a general operating temperature ranging from -100 to 500°F (some grades vary). SE65-CON has a conservative rating of -65 to 400°F. As a very crude test to see if there would be any deterioration of the SE65-CON, RTV60-CON or the bond between surfaces, a test piece bonded to aluminum was run through Stockwell Elastomerics' cryogenic deflasher, removed and hit with a hammer. The machine was in idle mode set to -80°F (run mode). The sample was then tumbled at -80°F for 60 seconds, removed and hit. There was no indication of bond or material degradation. This was a very crude test but does offer some insight to how well the bond holds up.
Stockwell Elastomerics carries a comprehensive line of ESD and EMI conductive silicone sheets, roll goods and molding compounds. For more information about these products, please call Stockwell Elastomerics at 215-335-3005 or complete a contact form for assistance.