Information about Stockwell Elastomerics for Buyers
Contact Info
Stockwell Elastomerics, Inc.
4749 Tolbut St.
Philadelphia, PA 19136
Phone: 215-335-3005
Toll Free: 800-523-0123
Purchasing Info
Cage Code: 87585
ITAR Code: M22579
Defense Logistics Agency (DLA) Joint Certification Program Cert #:0004585
D&B D-U-N-S Number: 002265833
Payment Forms Accepted:
Invoice (with credit approval)
Credit Reference Form (PDF)
Visa, MasterCard, American Express

---
Ordering Process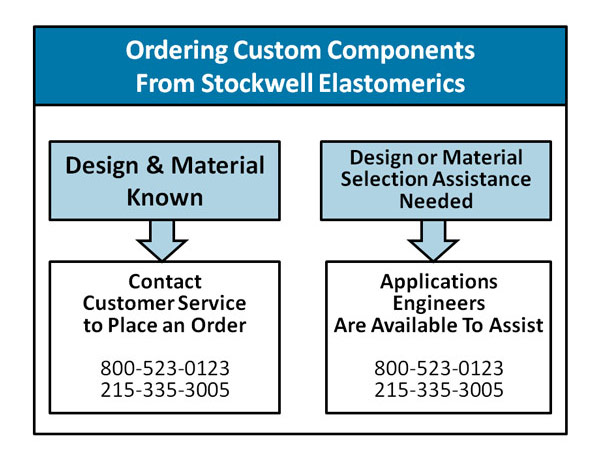 Company Info
Converter Friendly:
Stockwell Elastomerics is glad to work with and supply materials to gasket converters. Stockwell Elastomerics' technical staff is utilized for OEM customers, but are available for special circumstances.
Qualifications:
Capabilities:
Inventory:
---
Corporate Philosophy on Service
Stockwell Elastomerics appreciates that there may be a time crunch when placing an order, and is committed to working with customers to develop practical solutions to meet gasketing and design requirements – often when the gasket is the last component specified. Stockwell Elastomerics leverages technology to facilitate rapid response – but recognizes the value of good conversations with buyers and engineers to ensure needs are met. With on-site customer service, applications engineering support and production, Stockwell Elastomerics is ready to assist customers.
---
Industries Actively Served
Stockwell Elastomerics manufactures custom gaskets and components for a variety of industries, including:
---
Contact Stockwell Elastomerics
Contact Us for further assistance.