Automated UV Bonded Gaskets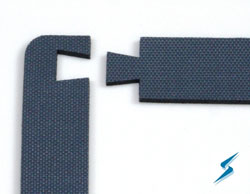 Stockwell Elastomerics is committed to bringing the best performing materials to OEMs, giving them the competitive edge. Large gasket applications often use sub-par materials due to cost restrictions and wastes associated with traditional cutting. In 2013, Stockwell Elastomerics made a capital investment in a custom, automated ultraviolet (UV) bonding system. This automated process, combined with four in-house waterjets and CNC die cutting, allows for precision bonded gasket joints. UV jointed gaskets offer the benefits of single piece gaskets with additional cost savings.
At a Glance: Benefits of UV Bonded Gaskets
Bonded corners for sealing against IP64, IP65, IP66, NEMA 4X
Cost savings for large gaskets
UL 50E recognized gasket materials
UL 94 flame rated materials available
Excellent memory and compression set resistant
Closed cell materials for ingress protection
UV and ozone resistant gasket materials
Flexible and seal at very low temperatures (-70°F)
Best Gasket Material for Enclosures
Silicone, closed cell silicone foam and closed cell silicone sponge are considered the best enclosure gasket materials. Silicone has excellent long term memory known as compression set resistance – meaning it continually rebounds after being compressed. Stockwell Elastomerics' silicone foam and silicone sponge materials are UL 50E gasket materials, good for NEMA enclosures. UL 94V-0 recognized gasket materials are also available where flame rating is needed (e.g. gasket for T8 LED fixtures).
Industries Using Automated UV Bonded Gaskets from Stockwell Elastomerics
Telecom – base station NEMA enclosures
Remote Monitoring – measuring equipment in desert and Arctic
Military – globally deployed enclosures and aerospace
Digital Displays and Kiosks –environmental gaskets and spill gaskets
LED Signage – ingress protection meeting UL 48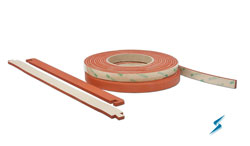 Unbonded Enclosure Gasket Applications
See the gasket tape page for applications where butt-joint gaskets or miter cut gaskets will suffice.
Stockwell Elastomerics' Engineering Assistance, Pre-Production and Manufacturing
Staff engineers are available to discuss design challenges and help select materials and manufacturing processes that best fit your application needs.
Stockwell Elastomerics has a comprehensive inventory of engineered materials designed and manufactured to meet requirements of the most demanding gasketing applications.
Pre-production through full production – Stockwell Elastomerics has a wide range of manufacturing capabilities including UV gasket jointing, CNC die cutting, waterjet cutting, injection molding, compression molding and adhesive lamination. Stockwell Elastomerics can fulfill fast-turn prototyping, pre-production and full production requirements.
Contact Stockwell Elastomerics for Automated UV Bonded Gaskets
Contact Us for further assistance with UV bonded gaskets, UV jointed gaskets and dovetail gaskets.