ESD Protection Products
Managing electrostatic discharge is critical for many industries – an unwanted static discharge can damage sensitive electronics and static discharge in the presence of fuel can be catastrophic. Stockwell Elastomerics offers standard and custom material solutions for managing ESD. Visit the ESD, EMI, and Electrically Conductive Materials Technical Data Sheets page for detailed technical information on these materials.

Silicone sponge with T62 conductive coating is used in the electronic packaging industry as gaskets on test chambers and burn-in reflow ovens. The soft silicone sponge rubber cushions integrated circuits and components during thermal testing cycles. Silicone has a wide operating temperature range – it stays compliant at sub-zero temperatures and is stable at temperatures above 392°F (200°C), making it an ideal material for burn-in and reflow applications. Stockwell Elastomerics' T62 conductive coating is applied to surfaces to create a grounding path to prevent tribocharging on the rubber surface.
---
T62 Conductive Silicone Sponge Gaskets and Pads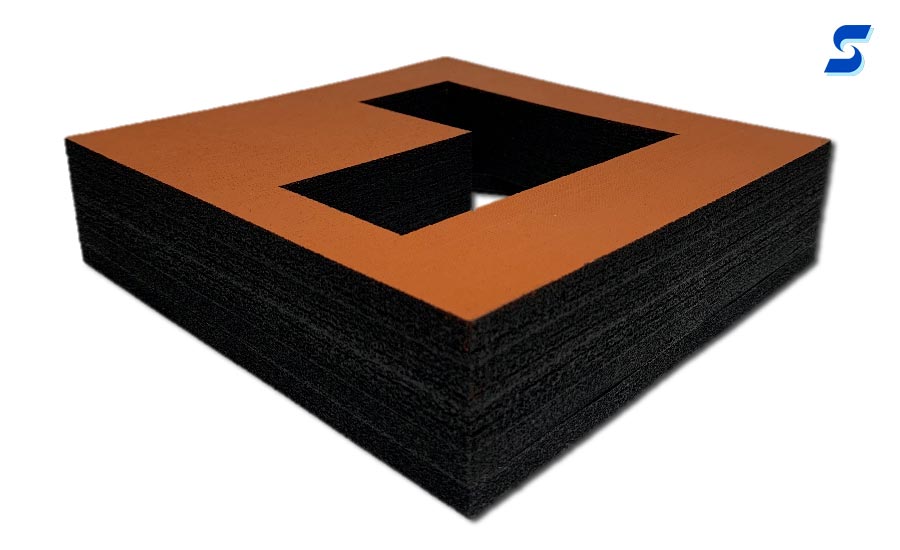 Silicone sponge sheets are inherently electrically insulating and can be triboelectric charged with friction. Triboelectric charging (also called tribocharging) can be generated by simple friction, even as simply as air passing over the surface. To address this, Stockwell Elastomerics applies a proprietary dispersion layer of carbon filled conductive silicone rubber onto the surfaces of silicone sponge. By coating all the surfaces with Stockwell Elastomerics' T62 conductive coating, X-Y-Z axis conductivity is achieved. It's important to note that the conductive path in the Z axis is around the edges of the material and not through it.
---
T62 Coating on Silicone Sponge Pad for ESD Protection Video
---
Stockwell Elastomerics' T62 conductive coating has similar temperature and physical properties as the silicone sponge rubber and doesn't inhibit the material's flexibility or ability to cushion or seal. T62 conductive coated silicone sponge can be specified in soft (S480-62-CON), medium (S470-62-CON) and firm (S418-62-CON) densities. View Silicone Sponge Rubber Gaskets and Seals with Conductive Coating for ESD Protection technical data sheet (PDF).
---
Request a Free Silicone Sponge with
T62 Conductive Coating for ESD Protection
Sample For Evaluation
---
Conductive Silicone
SE65-CON conductive silicone rubber is a carbon particle filled silicone with a max 5.0 ohm-cm volume resistivity, available in 65 durometer Shore A. SE65-CON is used for environmental gaskets with the added electrical conductivity for grounding ESD. SE65-CON conductive silicone is available from Stockwell Elastomerics in sheets or custom cut parts. SE65-CON is available in thickness ranging from .020″ to .500″.
Stockwell Elastomerics also offers 3D compression molding of carbon filled silicone to manufacture parts such as conductive mounting pads and conductive seals. Carbon filled silicone rubber is compression molded or fabricated from sheets using Stockwell Elastomerics' die cutting or water jet cutting capabilities. SE65-CON, carbon filled silicone compound – which has proven to maintain its electrical properties after years of exposure to sunlight and outdoor conditions.
---
Conpads™ Conductive Grounding Pads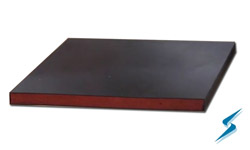 Stockwell Elastomerics manufactures Conpads™ for rocket motor and missile cushioning and grounding. Conpads™ are heavy-duty conductive grounding pads that were designed to help protect rocket motors from damage during transport and storage – they incorporate a conductive surface layer to ground ESD to help prevent unwanted tribochaging. Smaller and softer versions of Stockwell Elastomerics' Conpads™ are available for cushioning and grounding missiles and other sensitive munitions. See the Conpads™ conductive grounding pads page for more information.
---
Custom Conductive Gaskets and Pads for ESD
Stockwell Elastomerics custom cuts conductive coated silicone parts to customer specified geometries. Soft, T62 coated silicone sponge parts are cut and coated on designated surfaces and edges; for Z-axis conductivity "coating all edges" needs to be specified. Solid, carbon filled silicone (SE65-CON) can be die cut, waterjet cut or tool-less flashcut; SE65-CON is particle filled so it has isotropic conductivity. Stockwell Elastomerics also offers carbon filled conductive silicone gaskets with 3M 9713 when an adhesive backed gasket is needed.
---
Conductive Silicone Sealant
Conductive silicone sealant RTV60-CON is a one part, room temperature vulcanizing, carbon filled conductive adhesive. RTV60-CON makes a strong, vulcanized bond between electrically conductive silicone to metal assemblies. It cures at room temperature when exposed to atmospheric moisture.
---
Conductive Neoprene
Conductive neoprene SCR7020-CON, with 50,000 max ohm-cm resistivity, is available in 70 durometer Shore A sheets from .032″ to .250″ thick. Mounting pads from .062″ up to 1.0″ thick can be compression molded or fabricated to size using Stockwell Elastomerics' water jet cutting capabilities. Applications for SCR7020-CON conductive neoprene include pads used in electronic assembly, gaskets in powder packaging systems where ESD is critical, and mounting pads used in holding and transporting aerospace hardware and tooling.
---
Conductive Sponge Sheet for ESD Protection
S4503-CON is a blend of Butyl and EPDM synthetic rubber containing the needed additives for semi-conductive ESD properties. For gaskets or pads requiring ESD protection at ambient temperature, this provides an economical alternative to the series of available conductive silicone coated silicone sponge material. The S4503-CON product is presently out of production since the closing of Rubatex Corporation – the recipe was purchased by a sponge manufacturer who expects to have this back in production in 2017. Stockwell Elastomerics will announce when this is available.
---
Contact Stockwell Elastomeric for ESD Protection
Contact Us for further assistance with materials for ESD protection, and ESD production products such as conductive grounding pads (Conpads™), ESD gaskets and pads.
Conpads™ is a registered trademark of Stockwell Elastomerics.