Adhesive Backed Gaskets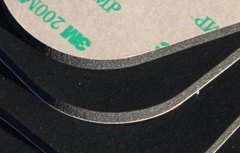 Stockwell Elastomerics has a proven expertise in manufacturing adhesive backed rubber gaskets, integrating premium adhesives with engineered gasketing materials. Engineers and designers can select from a menu of adhesives and gasket materials to create a custom combination the best suits their application. Adhesive backed gaskets, sometimes called peel and stick gaskets, feature ease of installation, gasket positioning, dimensional stability, and can be made as kiss-cut gaskets supplied on a roll.
Ease of installation – A peel and stick gasket allows assemblers to install a gasket or pad quickly and hold it in place during product assembly and shipping.
Gasket positioning – Adhesive backing on door gaskets holds the gasket in position when the door is opened and closed. This feature also applies to other enclosures such as clamshell gaskets and battery compartment gaskets. Without a pressure sensitive adhesive (PSA) backing, the gasket can move when the lid or mating surfaces are compressed. The motion of the mating faces can move or twist the gasket causing an ingress path.
Kiss-cutting – Adhesive backings allow for gaskets to be kiss-cut. This is often preferred by manufacturing engineers since parts are presented to the assembly operators on rolls. Parts can be removed from the adhesive liner easily, compared to individual cut-though parts that require time consuming adhesive liner removal.
Bolt hole position – Double-coat adhesive backing or film supported adhesive provides gaskets having a series of bolt holes dimensional stability. The thin PET film layer embedded in the adhesive limits the gasket from stretching in the X and Y dimensions during removal of the release liner. Without the film support, large soft gaskets cut from high elongation materials may stretch during installation, causing the bolt holes not to line up with the matching surface.
Common Gasket Materials Available with Peel and Stick Backing
PORON® urethane foam
Silicone foam
Silicone sponge
Solid silicone
Neoprene sponge
Solid neoprene
EPDM sponge
Electrically conductive gasket materials
Common Adhesives Offered by Stockwell Elastomerics
3M 350 Series – 3M 9485, 3M 9675, 3M 9731
3M 200 Series – 3M 467, 3M 468
3M 300LSE Series – 3M 9472LE, 3M 9490LE
3M 300 Series – 3M 6038, 3M 9472
3M Electrically Conductive – 3M 9713, 3M 9719
3M VHB, 100 series – 3M 9473
Adchem Double Coat – 254M, 256M
Stockwell DP-1001 – Silicone double coat on polyimide film
Stockwell Elastomerics is not limited to applying silicone adhesive to silicone rubber.
With several proprietary processes, Stockwell Elastomerics is capable of bonding a wide range of quality adhesives, including acrylics and silicones. View data sheets for all adhesive offerings.
Material and Adhesive – Combinations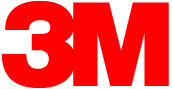 Stockwell Elastomerics applies adhesives at the time of running an order, allowing for a wide range of design flexibility. Most adhesive and materials offered by Stockwell Elastomerics can be combined; this flexible manufacturing helps engineers specify the best material and adhesive for their application. Custom gaskets, particularly custom adhesive backed gaskets, are Stockwell Elastomerics' core competence.
---
Secondary Release Liner for Easy Peel Foam Adhesive Backed Gaskets Demo
---
The video above illustrates a secondary, twelve point (12pt) liner vs. the inherent liner (very thin paper) that is supplied with the adhesive. Very often the inherently liner is very difficult to remove from thick, soft foam products. Stockwell Elastomerics' 12pt can be used to greatly improve handling and liner removal during installation.
Terminology Notes
Adhesive backed gaskets go by various names that are the same or similar in meaning. These include:
Adhesive backed gaskets
Adhesive back gaskets
Peel and stick gaskets
Sticky backed gaskets
Sticky back gaskets
---
Contact Stockwell Elastomerics for Adhesive Backed Gaskets
Contact us for further assistance with custom adhesive backed gaskets and peel and stick gaskets.