Gasket Tape, Foam Gasket Tape and High Temp Foam Tape
Stockwell Elastomerics has extensive experience with sealing and gasketing applications using high performance silicone foams and silicone sponge products. Stockwell Elastomerics offers the Saint-Gobain Strip-N-Stick line as well as an expanded offering including, HT-800 and 400FR flame rated gasket tapes. These gasket tapes take into consideration long term use, UV and ozone exposure, extreme high/low temperatures, firmness and compression set. This wide range of foam gasket tapes / strip gaskets allows Stockwell Elastomerics to supply gasket materials that will meet most enclosure gasketing needs.
What is Gasket Tape?
Gasket tapes are adhesive backed foam or closed cell sponge supplied in rolls slit to customer-specified width. End users cut the gasket tape to length as needed, peel the backing and bond in place. Gasket tape goes by many names including strip gaskets, foam gasket tape, roll gasket, Strip-N-Stick® or "strip and stick". Common applications include large enclosure gaskets, door gaskets, high temperature masking, NEMA panel gaskets and cushioning strips.
Stockwell Elastomerics Standard Gasket Tapes
480S Gasket Tape
Strip-N-Stick® 100S
Strip-N-Stick® 200A
HT-800 Gasket Tape
400FR (flame retardant) Gasket Tape
Strip-N-Stick® 300AR
Strip-N-Stick® 512
What is Strip-N-Stick®?
Strip-N-Stick is branded silicone sponge and silicone foam line of high temperature silicone gasket tape manufactured by Saint-Gobain. Products include SNS-100S, SNS-200A, SNS-300AR, SNS-512.
HT-800 Gasket Tape
HT-800 silicone foam is UL recognized for UL 50, UL 50E (periodic recompression and continuous compression), UL 508, UL 1571, UL 1572, and UL 94V-0. This makes HT-800 ideal for outdoor lighting gaskets and NEMA enclosure gaskets. HT-800 silicone foam and the closed cell silicone sponge used for 400FR meets 21 CFR 177.2600 suitable for indirect food contact.
Strip-N-Stick® Gasket Tape
Saint-Gobain Strip-N-Stick is not currently listed for UL 50/E however it is widely used for NEMA enclosures and high temp masking applications. The closed cell silicone sponge is tougher and has a wider temperature range than silicone foam. SNS-100S is provided with a silicone adhesive allowing for a wider operating temperature (-100° to 500°F).
---

Request a Free Silicone
Sponge / Silicone Foam Gasket
Tape Touch Brochure
Includes small samples of gasket tape materials to touch and feel.
---
Gasket Tape Material Considerations
Indoor Applications – Dust and light water splashing, most gasket tapes can be used.
Outdoor Applications – Dust, rain, snow, and hose down require closed cell foam or closed cell sponge.
Spec Requirements – NEMA 4, NEMA 4X, IP64, IP65; material has to be functional with design but no material qualifications needed. UL 50E, UL 94; material has to be UL recognized (yellow card).
Bonding Surface – Powder coats and certain plastics may require high strength adhesive.
Temperature – SNS-100S offers a very wide temperature range and HT-800 Gasket tape is available in certain thicknesses with 3M 350 series adhesive.
Compression Set and Stress Relaxation – Gasket tapes offered by Stockwell Elastomerics offer very good resistance to compression set and stress relaxation making them ideal for enclosure gaskets.
Flame Rated Foam Tape – Silicone foam materials typically meet UL 94V-0, HT-800 foam also meets FAR 25.853 requirements.
Water Sealing – Aggressive wash down requirements such as IP64, IP65, IP66, NEMA 4, NEMA 4X, and UL 50 type 4 may require bonded corners to prevent the ingress of pressurized water.
Common Applications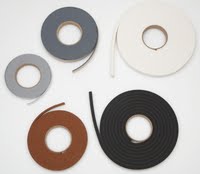 Telecommunication enclosure gaskets, enclosure door gaskets
LED lighting gasket, outdoor water sealing
LED light leak gasket, indoor UL 94V-0
Masking for large composites
HVAC, high temp foam gasket
HEPA filter gasket
Large gasket (where single piece is cost prohibitive)
Need Help?
Stockwell Elastomerics can help select the proper gasket tape material and adhesive backing for each application. Note: With the slitting process there typically is a minimum order requirement.
Contact Stockwell Elastomerics for Gasket Tape
Contact Us for further assistance with gasket tape, gasketing tape, foam gasket tape, silicone gasket tape and any adhesive-backed gasketing tape.

Strip-N-Stick® is a registered trademark of Saint-Gobain.