Adhesive Backing for Gaskets and Pads
Stockwell Elastomerics is a custom gasket manufacturer and rubber component manufacturer serving OEMs and contract manufacturers. The vast majority of rubber gaskets and silicone gaskets are shipped with a pressure sensitive adhesive backing, often referred to as peel and stick gaskets or adhesive backed gaskets. The adhesive backing on gaskets and pads is often overlooked but is a key feature that can aid in assembly, often reducing costs because of better throughput. Stockwell Elastomerics helps engineers select the best peel and stick backing based on the specific application needs.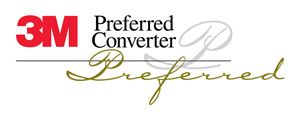 Stockwell Elastomerics is a 3M™ Preferred Converter. From the hundreds of available adhesives options, Stockwell Elastomerics has selected the best pressure sensitive adhesives for specific bonding and performance requirements.
While Stockwell Elastomerics inventories master logs of pressure sensitive adhesives, they are only sold as backings on rubber materials (solid silicone rubber, silicone foam rubber and silicone sponge rubber).
---
Peel and Stick Adhesives for Gaskets and Pads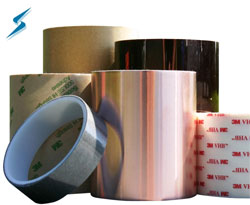 The majority of adhesive backings on gaskets are double sided, pressure sensitive adhesives (PSAs). A master log of adhesive is unwound (there is a release liner on one side) exposing the adhesive, and the exposed side is applied to the rubber. The release liner remains in place until the gasket or pad is installed. There are hundreds of variations of adhesive backings for gaskets but there are only a handful of adhesive families; most common are acrylic, rubber, and silicone. PSAs are generally available from .002″ to .010″ thick, supplied on treated paper or plastic release liners.
---
Film Supported Adhesive or Transfer Film Adhesive?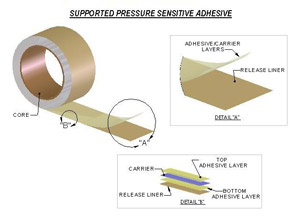 Gaskets with features that would benefit from X and Y axis dimensional stability during assembly may benefit from a film supported adhesive, also called double coat adhesive. Double coated adhesives have a carrier layer such as PET film or tissue that is sandwiched between two layers of adhesive. The support layer aids assemblers with installation.
Example: a large enclosure gasket with a series of bolt holes – without a film support the gasket would stretch during installation resulting in misalignment of the holes.
Film supported adhesives also improve the removal of kiss cut gaskets from the release liner.
Shear forces: a high quality transfer film adhesive may be a better choice for gaskets or cushioning pads subjected to shear forces. Film supported adhesives may experience separation of the adhesive from the film support in applications where there is long term shear (this separation may occur over time).
---
Secondary Release Liner for Easy Peel Foam Gaskets Demo
---
The video above illustrates a secondary, twelve point (12pt) liner vs. the inherent liner (very thin paper) that is supplied with the adhesive. Very often the inherently liner is very difficult to remove from thick, soft foam products. Stockwell Elastomerics' 12pt can be used to greatly improve handling and liner removal during installation.
---
Acrylic Adhesives for Gaskets and Pads
The majority of pressure sensitive adhesives are made from just a few polymer families: rubber, acrylic, and silicone. Acrylic pressure sensitive adhesives account for the majority of PSAs supplied on gaskets and cushioning pads. Acrylic adhesives are made from various formulations to provide different strengths, tack, thicknesses, cohesion, temperatures and other properties.
Stockwell Elastomerics regularly laminates acrylic adhesives to silicone foam, silicone sponge rubber, PORON® cellular urethanes, neoprene sponge rubber, EPDM sponge rubber and other gasket materials. These adhesive backed gaskets may be waterjet cut, die cut, or slit into custom foam tape rolls (gasket tape).
Visit the Pressure Sensitive Adhesives Data Sheets page for detailed technical information on each adhesive product.
---
Acrylics for High Temperature Gaskets or Pads
Some applications require a slightly higher temperature range but not high enough to justify the higher cost and lower strength of a silicone based adhesive. 3M offers 467MP (.002″ thick) and 9485PC (.005″ thick) with operating temperature up to 300°F and intermittent excursions up to 350°F. A more robust option is 3M F9473PC which is in the VHB family (100MP) and can tolerate short-term exposures up to 500°F.
Data Sheets on Acrylics for High Temperature Gaskets or Pads
---
Acrylics for Low Temperature Gaskets or Pads
Most 3M pressure sensitive acrylics have a low temperature rating of -40°F and -40°C; at these temperatures the adhesive is very firm. In rigorous, dynamic applications such as a cold soak drop test, many acrylic adhesives will fail. Static applications at these low temperatures are generally not a problem – as the temperature rises again the adhesive softens and become compliant again, allowing them to withstand an impact.
Stockwell Elastomerics has a few acrylic adhesives that have stood up to rigorous cold soak drop tests, but each application has different variables so testing is recommended.
---
Silicone Based Pressure Sensitive Adhesive
Silicone pressure sensitive adhesives are typically specified for their wide operating temperatures; silicone adhesives will remain functional from -80°F to 450°F and handle excursions beyond this range. Silicone adhesives are generally more expensive than acrylics, the shelf life tends to be shorter and they have lower adhesion levels, but are well suited for low surface energy materials. Because of these reasons, silicone pressure sensitive adhesives are mostly specified for their temperature properties.
Since silicone rubber products are often specified for their high temp and low temp adhesion properties, silicone adhesive is recommended when a gasket will experience extreme temperatures. Stockwell Elastomerics regularly laminates silicone based pressure sensitive adhesive onto solid silicone rubber, silicone sponge gaskets, and silicone foam pads.
Stockwell Elastomerics' silicone adhesive backings have a film supported construction. Unsupported silicone adhesives can lose too much shelf life when applied to many silicone substrates, due to the cross-linking of the free silicones in the adhesive and the cured silicone substrate. The film support provides a barrier and experience indicates that it extends the shelf life. For extreme temperature requirements, DP-1001 has a high temperature polyimide film support and should be evaluated.
Silicone adhesives with a PET film carrier have lower operating temperatures due to the PET film layer's temperature limit. Stockwell Elastomerics recommends using an acrylic adhesive that will offer comparable or better adhesion, lower cost and longer shelf life.
3M 9731 is a film supported combination adhesive; with one side coated with acrylic and the other side coated with silicone adhesive. Stockwell Elastomerics maintains inventory and regularly laminates silicone products with 3M 9731 when specified by customers.
Data Sheets for Silicone Based Pressure Sensitive Adhesives
---
Repositionable Adhesives
Tough to install gaskets such as touch screen gaskets often benefit from repositionable adhesives. This family of adhesives has a strong adhesive on one side for bonding to rubber and a low tack adhesive on the opposite side of a PET film layer. The low tack side allows assemblers to peel up and re-apply the gasket during installation. Adchem 8311 and 3M 9415 offer two level of bond strength. Low tack pressure sensitive adhesives will build adhesion strength over time if they are applied to clean surfaces. 8311 will have a higher final bond where 9415 will remain low tack.
Data Sheets for Repositionable Adhesives
---
Low Surface Energy (LSE) Adhesives
Low surface energy pressure sensitive adhesives have been formulated to adhere to powder coated metal surfaces and tough-to-stick-to plastics. Rubber based adhesives may be specified for these surfaces but don't have the long term performance usually required for gasket application. For long term adhesion, Stockwell Elastomerics suggests acrylic adhesives instead of the high tack rubber based adhesives that hold quickly to low surface energy surfaces.
Since surface finishes, plastics and coatings can vary, Stockwell Elastomerics recommends testing the material substrate with pressure sensitive adhesive backing. 3M 9485 and 3M 9472LE transfer adhesives and 9490LE film supported adhesive we're designed for bonding to low surface energy materials.
Data Sheets for Low Surface Energy (LSE) Adhesives
---
Pressure Sensitive Adhesives with Special Properties
Electrically conductive pressure sensitive acrylic adhesives are available for EMI shielding gaskets and ESD grounding pads. 3M 9713 (acrylic) and 3M 9719 (silicone) are electrically conductive adhesives containing a nickel graphite scrim. Stockwell Elastomerics laminates 3M 9713 and 3M 9719 onto carbon filled, nickel-graphite filled, or silver filled silicone for EMI and RFI shielding gaskets, as well as ESD grounding components.
Thermally conductive acrylic adhesives are filled with ceramic particles to enhance thermal transfer. Stockwell Elastomerics laminates Saint-Gobain TR3 thermally conductive acrylic adhesive (.003″ thick) onto thermally conductive silicone rubber for gaskets and pads that promote heat transfer.
3M VHB (Very High Bond) Acrylic Foam Adhesives are available from Stockwell Elastomerics' inventory from .015″ to .045″ thick. Acrylic foams provide high strength, flexible bonding substrates for adhesive patches and gasket applications from -40°F to 250°F. Stockwell Elastomerics can laminate these adhesives onto large rubber pads or apply release liners on die cut gaskets and adhesive pads.
---
Help with Selecting an Adhesive Backing
Stockwell Elastomerics' Applications Engineers are glad to discuss projects with customers and help select an adhesive backing. Navigating the selection of the adhesive to use can be difficult and in some cases the adhesive is as important as the gasket material specified. Stockwell Elastomerics' engineerers will narrow down the options and offer samples for testing.
---
Contact Stockwell Elastomerics for Adhesive Backing on Gaskets and Pads
Contact Us for further assistance with adhesive-backed gaskets, pressure sensitive adhesives, and PSA gaskets.
---
3M™ is a registered trademark of 3M Company.