Elastomeric Gaskets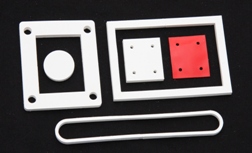 An elastomer gasket or elastomeric gasket is a gasket that is made from a silicone elastomer based material, such as silicone rubber, silicone foam, silicone sponge, PORON® cellular urethane and fluorosilicone. Silicone elastomers are synthetic rubber materials that provide the material base for many gaskets. Elastomeric gaskets are used in applications that include analytical instruments, handheld data devices, ruggedized equipment, medical diagnostics devices and many high tech gadgets.
Elastomer gaskets can be die cut, water jet cut, custom molded, laminated and fabricated into many different shapes for many uses. Special properties that are possible with elastomeric gaskets include electrical conductivity, thermal conductivity, EMI shielding and ESD protection.
Started in 1919 as the Stockwell Rubber Company, natural rubber was the material of choice for many gasket applications for many decades. Now, silicone elastomer gaskets are used in place of rubber for almost all work done by Stockwell Elastomerics, which was renamed in 2005 to reflect the emphasis on elastomeric materials.
Silicon Elastomers or Silicone Elastomers?
Silicon elastomer is a common misspelling for silicone elastomer.
Contact Stockwell Elastomerics for Elastomeric Gaskets
Contact Us for further assistance with elastomer/elastomeric gaskets.