Large Gaskets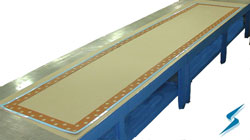 Stockwell Elastomerics has a unique capability to manufacture large gaskets from silicone materials. In-house waterjets, stock roll materials, custom continuous feed UV curing oven and designated assembly cell allows Stockwell Elastomerics to manufacture very large, one-off gaskets with minimal setup cost. Most very large gaskets are assembled with bonded dovetail joints, joints allow for optimizing sheet yield and cost.
Big gaskets assemblies have some limitations, mostly related to materials. Very thin gasket materials don't lend themselves well to jointing due to the small cross-section, and other materials may only be available in small sheets. Stockwell Elastomerics' Applications Engineers can help with material selection and gasket design.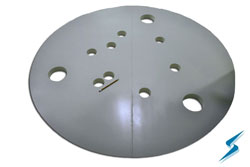 Stockwell Elastomerics manufactures large custom gaskets for radomes, marine applications, and large electrical enclosures. Depending on the sealing requirements, Stockwell Elastomerics also offers gasket tape that can be slit to custom widths. Silicone gasket tape is a cost effective option for large gasket applications. Silicone foam gasket tape and silicone sponge gasket tape are often used for enclosure sealsfor protection from rain.
Common Materials Used for Large Gaskets
Contact Stockwell Elastomerics for Large Gaskets
Contact Us for further assistance with custom large gaskets and large gasket assembly.