Electric Signs UL 48 Gaskets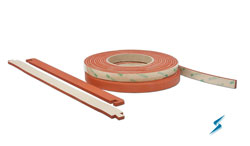 UL 48 is the UL standard for electric signs; this specification addresses signage standards for a wide range of applications. Since signs are usually custom and manufactured in limited quantities, they are usually not required to go through UL testing when manufactured to UL 48 standards with recognized components from the Sign Components Manual (SAM).
UL 48 SAM gasket material must be suitable for weather sealing on doors, hatches, sign bodies, and other basic ingress points. An approved adhesive or other means of affixing such as mechanically fastening is required. Gasket materials with UL 508 (UL 60947), UL 50 or UL 1598 designations are considered to be suitable for outdoor sign applications.
UL 48 references various specifications relating to gaskets including:
UL 50 (Enclosures for Electrical Equipment, Non-Environmental Considerations)
UL 50E (Enclosures for Electrical Equipment, Environmental Considerations)
UL 508 (Industrial Control Equipment),
UL 60947 (Low Voltage Switchgear and Controlgear)
UL 746C (Polymeric Materials – Electrical Equipment)
UL 157 (Gaskets and Seals)
JMST2 (Gasket Materials, sheet form or cut gaskets for end use product)
JMLU2 (Gasket Materials, general gasket evaluation)
UYMR2 (Sign Accessories – Component)
---
UL 48 Gasket Materials
Stockwell Elastomerics inventories a range of UL 48 gasket materials and 3M adhesive backings that are UYMR2 recognized. These gasket materials and adhesives are combined as needed to make the best adhesive / gasket material combination and optimum gasket performance.
---

Request a Free Electric Signage
UL 48 Gasket Material Touch Brochure
Includes small samples of these gasket materials to touch and feel.
---
How to Purchase UL 48 Gaskets for Electric Signs
With so many materials and gasket manufacturing processes, selecting the best gasket material and process can be difficult. Stockwell Elastomerics' Applications Engineers can recommend the best material based on UL requirements and performance requirements (rain, wash down, high temperature, etc.)
Low volume, custom gaskets for electric signs can be manufactured with Stockwell Elastomerics' in house water jet cutting machines with no tooling cost. High volume gaskets can be die cut with a modest tooling charge. Stockwell Elastomerics also offers gasket tapeand strip gaskets for basic applications.
---
Contact Stockwell Elastomerics for Electric Signs UL 48 Gaskets
Contact Us for further assistance with custom electric sign gaskets and UL 48 gaskets.