Thermally Conductive Materials Data Sheets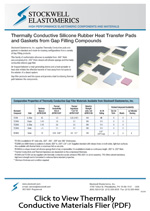 Stockwell Elastomerics supplies thermally conductive pads and gaskets in standard and made-to-drawing configurations from a variety of gap filling products. This family of conformable silicones is available from .008" thick uncured product to .250″ thick closed cell silicone sponge and thermally conductive silicone gap filler. Air trapped between a heat generating device and a heat spreader or heat sink inhibits the effective transfer of heat away from hot spots to the exterior of a closed system. Gap filler products seal this space and provide a fast functioning thermal path between the components.
View/Download Thermal Management Products Sheet
---
---
Contact Stockwell Elastomerics for Thermally Conductive Materials
Contact Us for further assistance with thermally conductive materials such as thermally conductive silicone coated fabrics, thermally conductive tapes, gap fillers, phase change products and thermally insulating materials.