Rubber Compression Molding, Silicone Rubber Compression Molding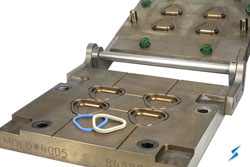 Stockwell Elastomerics produces compression molded custom rubber components on-site in Philadelphia to service fast-turn requirements and specialty applications for customers in technology-driven markets. As our core business revolves around silicone rubber technology, our strength in rubber compression molding includes silicone rubber compression molding, fluorosilicone compression molding and electrically conductive compounds such as nickel-graphite filled silicone and silver plated aluminum filled fluorosilicone for EMI Shielding Gaskets.
Rubber compression molding is a labor intensive production activity. The cure cycle for compression molded rubber ranges from 5 minutes to 15 minutes depending on the cross section and size of the gasket. When potential requirements for a molded component are reviewed, Stockwell Elastomerics Application Engineers consider whether the application requirements favor liquid silicone rubber, which has a typical cure cycle of 30 seconds to 2 minutes depending on the cross section.
Why Stockwell Elastomerics for Rubber Compression Molding?
Stockwell Elastomerics is the only gasket manufacturer and custom rubber compression molding company of comparable size that provides on-site rubber molding, liquid silicone rubber molding, water jet cutting and die cutting. This multi-faceted approach to rubber component manufacturing allows Stockwell Elastomerics to offer a broader range of solutions to design challenges. With broad capabilities, most common production quantities tend to be 500 to 20,000 pieces. Compression molding press sizes range from 16″ x 16″ platens to 24″ x 24″ platens. Molding tolerance capabilities are typically RMA A2 precision and RMA A3 commercial.
Cryogenic De-flashing and Compression Molding
A recent enhancement to Stockwell Elastomerics' rubber compression molding capabilities has been the installation of the Cryogenic Systems Model SCC1505 cryogenic de-flashing system. Using liquid nitrogen and small tumbling beads, this system can remove parting line flash from difficult to reach areas on both simple and complex molded parts. The typical flash condition is reduced from .015″ long, down to a .005″ long maximum flash extension. Cryogenic de-flashing has been effective on silicone rubber, fluorosilicone rubber, nickel-graphite filled silicone and silver plated aluminum filled fluorosilicone, along with injection molded liquid silicone rubber gaskets and seals. Contact us for samples of silicone molded parts after cryogenic de-flashing – a very close look is needed to see the parting lines.
Silicone rubber compounds are inventoried from 25 to 80 durometer Shore A. These are gum based compounds, in contrast to the 2-part liquid silicone rubber compounds that support our liquid injection molding processes. Most of our rubber compression molding silicone compounds are methyl vinyl based, which can be formulated for high elongation, flex, tensile and tear properties for mechanically demanding applications and withstand temperatures from -100°F to 500°. Phenyl based silicones are intended for very low temperatures, down to -130°F that can be required in rubber gaskets for laboratory instrumentation and aerospace applications. Gum based silicones for compression molding can be formulated to meet a number of industrial and military specifications such as ZZ-R-765 and AA-59988.
Specialty Molding Compounds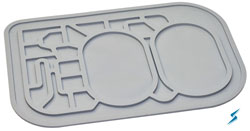 Electrically conductive nickel-graphite filled silicone, silver plated aluminum filled silicone and carbon filled conductive silicone is used in compression molding for EMI Shielding gaskets and components to promote ESD protection. Most of these conductive materials are also available in fluorosilicone base compounds for aerospace related requirements requiring fuel and fluid resistance.
Fluorosilicone rubber compounds in 40 and 60 durometer Shore A are certified to Mil-R-25988. Stockwell Elastomerics has other fluorosilicone compounds meeting AMS and commercial compounds.
Requests are frequently handled for compression molded special rubber sheets in non-standard gauges to support rapid prototype development for aerospace equipment, instrumentation and medical equipment. 12″ x 12″ and 14″ x 14″ sheet molds serve these needs. Silicones and fluorosilicones can be compression molded into sheets ranging from .030″ thick through .500″ thick.
Contact Stockwell Elastomerics for Silicone Rubber Compression Molding
Contact Us for further assistance with silicone rubber compression molding and fluorosilicone compression molding.