Reinforced Materials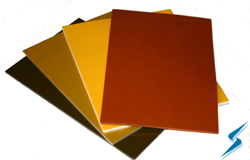 Stockwell Elastomerics inventories materials that help resolve engineering challenges. Among these is a family of reinforced products that offer high tensile strength and dimensional stability. Included are thin silicone coated fabrics, EMI sheet, chemical resistant PTFE and fluorosilicone sheets, and thermally conductive sheets. Each product is engineered for high performance.
Reinforced materials products include:
Thin silicone coated fabrics
Reinforced solid silicone sheet
Reinforced silicone sponge
EMI gasket sheet with conductive reinforcement
Thermally conductive coated fabrics
PTFE coated fabric and reinforced PTFE Tapes
Fluorosilicone coated polyester fabric
Silicone Coated Glass Fabrics
Silicone coated glass fabrics have properties similar to silicone rubber sheets but with better handling and processing. Thin silicone sheet materials tend to wrinkle and stretch very easily causing part distortion. Stockwell Elastomerics offers silicone fabric as thin as .007″ thick. These have wide operating temperatures, dimensional stability, and can be stitched.
Stockwell Elastomerics also offers thin liquid silicone coated fabrics for high grip rubber properties. These are often combined with super resilient silicone foam to make gripping pads or anti-slip pads.
Reinforced Silicone Sheet
Similar to silicone coated fabrics, reinforced silicone sheets have glass fabric reinforcement, but are thicker and handle similar to a rubber sheet vs. fabric. Reinforced silicone rubber is available in high temperature, reversion resistant grades, X/Y axis dimensional stability (compressible in the Z axis), and grades made to pass AMS-3320. Reinforced rubber sheets are available with solid silicone and medium firmness silicone sponge. Common uses are press pads, thermal heater insulation pads, and gaskets.
EMI Silicone Sheet with Conductive Reinforcement
A very unique product is SNE-556-R, made with a gum based silicone and nickel graphite filler, this EMI gasket material has an internal reinforcement that enhances the conductivity. Filled EMI gasket materials tend to have lower tensile strength due to the particle fill; SNE-556-R resolves this. Added strength and continuous sheet make SNE-556-R ideal for high volume cutting and large EMI gaskets that require dimensional stability for bolt hole alignment. Stockwell Elastomerics offers EMI gaskets materials with or without 3M conductive adhesive backings for peel and stick EMI gaskets. View the Highly Conductive Reinforced Nickel Graphite Filled Silicone section of the EMI Sheilding Materials page for more details.
Chemical Resistant Reinforced Materials
Stockwell Elastomerics offers thin fluorosilicone coated polyester sheet, this has many of the similar properties as silicone coated fabrics but with added chemical resistance. These materials are suitable for environments where there may be exposure to solvents or fuel.
Also offered are PTFE coated fiberglass films, available with or without adhesive backing. PTFE has high and low temperature resistance, excellent dielectric strength, and very good chemical resistance. Stockwell Elastomerics can laminate PTFE film to silicone sheet products to enhance the wear properties while maintaining high and low temperature properties. The combination is good for low friction pads / low temperature cushion pads, with added abrasion resistance.
Thermally Conductive Reinforced Silicone Sheet
Stockwell Elastomerics carries a variety of thermally conductive rubber materials; the most popular are thermal gap fillers. Gap fillers are ultra soft materials intended to bridge the air gap between a heat source and heat sink. Thermal gap fillers are very delicate with little strength. An alternative to these materials is glass fabrics coated with thermally conductive silicone rubber. These strong thermal fabrics are a good option for applications where strength and durability are needed in conjunction with thermal conductance. Parts are easily die cut with or with out a conductive adhesive backing.
Contact Stockwell Elastomerics for Reinforced Materials
Contact Us for further assistance with reinforced materials including thin silicone coated fabrics, EMI sheet, chemical resistant PTFE and fluorosilicone sheets and thermally conductive sheets.