Robotics and Factory Automation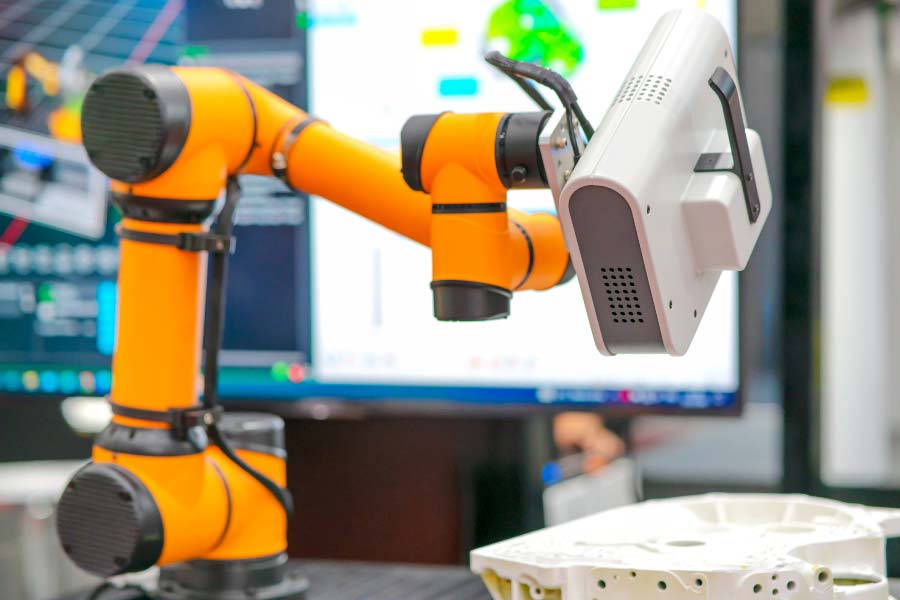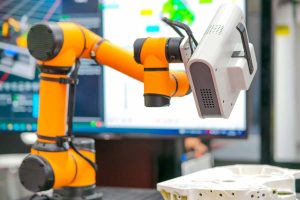 Companies that make robotics and automation equipment are reshoring production to the United States. Stockwell Elastomerics uses advanced materials to fabricate components for these applications in low and medium volumes. Examples of these components include silicone, fluorosilicone and polyurethane sheet materials that are die cut or waterjet cut, or that are molded into gaskets and O-rings. Products include environmental seals, cushions, dielectric barriers, and gaskets that provide shielding against electromagnetic interference (EMI) or that offer protection against electrostatic discharge (ESD).
Robotics, Robots, Cobots and Automation
Robotics spans the design, construction, operation, and application of robots – machines that can complete a complex series of tasks automatically. Stockwell Elastomerics can supply parts and materials to the makers of autonomous mobile robots (AMRs), automated guided vehicles (AGVs), articulated robots, collaborative robots (cobots), and hybrids. These stationery and mobile robots/cobots are all forms of factory automation, but automation equipment is a larger technology category that Stockwell Elastomerics also supports. For example, factory automation systems include two-way and four-way lifters, automatic fork transfers, and stacking machines. Whether they are used with parts, cartons, boxes, or pallets, these automation technologies have sensors and are computer-controlled. For both indoor and outdoor applications, and in non-industrial environments such as the operating rooms where surgical robots are used, automation technologies need reliable protection for onboard electronics and other sensitive components. Stockwell Elastomerics fabricates robot and cobot parts in low and medium volumes, and can provide robotics manufacturers with custom products for quick-turn prototyping or specialized applications.
Environmental Sealing and Cushioning
Silicone, fluorosilicone, and polyurethane gaskets provide environmental sealing in many robotics and automation applications. For example, mobile robots that are deployed in extreme environments may need silicone or fluorosilicone seals that can resist industrial chemicals or high temperatures. These gaskets can also be made of UL 94V flame-rated materials. Typically, mobile robots are equipped with cameras and subject to accidental impacts. If dust protection and camera cushioning are needed, and if the temperature requirements are not extreme, polyurethane foam gaskets can be used instead.
Stationary robots and automated industrial equipment also require seals and gaskets that provide specific types of environmental resistance. For example, the cartesian robots that are used for CNC machining and 3D printing need to prevent the ingress of dust from machined metals or plastic powders. Programmable logic controllers (PLCs) and electrical enclosures for factory automation equipment may need to resist the dust and moisture as well. Rogers BISCO® silicone foam and Saint-Gobain NORSEAL® silicone foam combine environmental sealing and cushioning with greater high temperature resistance.
Cobots are designed to work near humans within a shared space. In industrial environments, these collaborative robots may be exposed to contaminants or come in contact with water or chemical cleaners. For example, a cobot that is used for sanding is exposed to dust that may contain particles of wood, metal, or paint. Cobots for abrasive water jet cutting are sometimes splashed by water that contains abrasive particles. In cleanrooms and hospitals, cobots need to withstand chemical cleaners. Silicone gaskets provide broad environmental resistance and fluorosilicone provides enhanced chemical resistance.
Robots and cobots also need to withstand accidental contact with people, products, and equipment. Some robotic hands are sensitive enough to hold fragile objects, but robotic joints can be damaged by sudden impacts. Cushioning pads and shock-absorbing pads absorb this energy, and their compressibility supports environmental sealing. Yet robots/cobots need to support electrical safety as well. Dielectric barriers such as pads, spacers, and gaskets prevent the flow of current through them by storing a charge. They are often made of solid silicone, silicone foam, or silicone-coated fiberglass.
Stockwell Elastomerics fabricates environmental gaskets and seals from closed cell silicone foam and silicone sponge, and from PORON® microcellular urethanes that seal out dust and provide cushioning. For environments that require enhanced chemical resistance, such as at petroleum refineries, fluorosilicone rubber materials can withstand non-polar solvents, fuels, oils, acids, and alkaline chemicals while providing static sealing and cushioning. Stockwell Elastomerics also supplies gaskets that meet IP ratings for sealed enclosures.
EMI Shielding, ESD Dissipation, and Dielectric Barriers
Electronic devices that are used in robotics and other types of automation equipment can radiate or conduct electronic noise, or EMI, which disrupts circuits. Cross-talk from nearby circuits, whether it's from nearby programmable logic controllers (PLCs) or medical electronics, can also cause electromagnetic interference. The EMI gaskets that Stockwell Elastomerics provides are fabricated from EMI shielding materials that include electrically conductive silicones. For robots and cobots with articulated arms, bonded or molded EMI o-rings that fit into a groove are often used.
Electrostatic discharge (ESD) events can occur when a highly charged object such as a robot touches an uncharged or oppositely charged object. Although ESD current spikes are brief, they can still damage or disrupt electronics used by robotics and automated equipment. End-effector pads that are made of electrostatically dissipative materials can help to prevent these incidents, but they may also need to provide cushioning for handling delicate parts or materials. Standard silicones can cause issues in ESD sensitive areas. However, Stockwell Elastomerics has developed a line of proprietary coatings as well as some specialty grades of ESD solid silicone.
Stockwell Elastomerics fabricates custom conductive gaskets and ESD pads from silicones that are filled with nickel-coated graphite or silver-coated aluminum. Conductive-coated silicone sponge is soft and compressible, and silicone supports higher operating temperatures than end effector pads that are made of other polymers. With the rise of 48V robots that use high-power electronics, dielectric barriers are used to provide electrical insulation for robotics.
Contact Stockwell Elastomerics for Gaskets, Seals and Other Components for Robotics and Automation
Stockwell Elastomerics uses advanced materials for robotics and factory automation use, and can supply environmental seals, cushions, EMI gaskets, ESD protection, and dielectric barriers to manufacturers who want to reshore their operations. Contact a Stockwell Elastomerics Application Engineer for assistance with robotics/automation applications.
---
BISCO® and PORON® are registered trademarks of Rogers Corporation.
NORSEAL® are registered trademarks of Saint-Gobain.