UV Resistant Gasket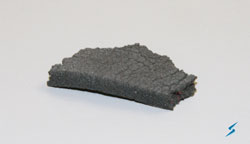 Degradation of rubber and gaskets is often attributed to UV and/or ozone exposure. A suitable material needs to be considered for outdoor applications and applications with exposure to UV or ozone. Drying, cracking, flaking, hardening and scaling are signs of material failure that can lead to equipment damage due to water ingress.
UV and ozone breakdown the carbon bonds in the backbone of the polymer, eventually leading to degradation and failure. Organic rubber gaskets such as Buna-S (SBR), Buna-N (Nitrile), natural rubber, synthetic isoprene break down relatively quickly in UV exposure. Silicone and EPDM are two of the better UV resistant materials that are commercially available. Silicone is often the go-to material for engineering solutions due to its range of offerings – ultra soft silicone foam, extra firm silicone sponge, 10 to 70 durometer solid silicone, thermally conductive silicone, electrically conductive silicones.
Ozone in Electrical Enclosures
Enclosures containing high voltage components or brushed motors can generate low levels of ozone. Over time, ozone exposure can damage gaskets. If the gasket is part of a preventive maintenance schedule this may not be an issue. Considering an ozone resistant and low compression set gasket material is the preferred practice to help prevent equipment damage.
UV Resistant Gasket Materials from Stockwell Elastomerics
Stockwell Elastomerics manufactures custom gaskets and custom cushioning pads from UV and ozone resistant materials. Silicone offers the widest range of products including soft solid silicone, expanded silicone sponges and foams, electrically and thermally conductive sheets, all UV and ozone resistant.
Typical Materials Specified for UV/ozone environments:
Liquid Silicone Rubber
Gum Based Silicone
Silicone Sponge and Silicone Foam
EPDM Sponge
ECH Sponge
Contact Stockwell Elastomerics for UV/Ozone Resistant Gaskets
Contact Us for further assistance with custom gaskets for applications requiring UV resistance and/or ozone resistance.