Kiss Cut Gaskets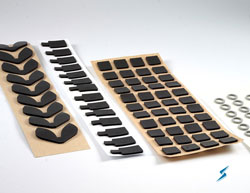 Kiss-cutting is a process where the gasket material is cut but the adhesive backing (paper liner) remains intact. The die blade cuts through the gasket material and just into, but not through, the adhesive liner. The surrounding web or waste material is often removed leaving just the custom kiss cut gasket on the paper liner. This is the preferred cutting method for high volume gasket or cushioning pad applications. Kiss-cut pads or gaskets are supplied on a roll where installers can easily remove the part from the paper backing. This reduces manufacturing cycle time since individual liners do not have to be removed from the part.
Progression Kiss-Cut Pads
Simple cushioning pads with adhesive backing can be quickly and efficiently cut with no tooling charge using the Progression Kiss-cutting process. The pad is made by slitting an adhesive backed material to one of the pad dimensions, this roll is then sent through a kiss cutter with a straight blade. The term progression kiss-cutting comes from the distance that the material progresses through the kiss cutter. This progression is determined by the second dimension of the cushioning pad. To use this process, progression kiss-cut pads must be square or rectangular with an adhesive backing.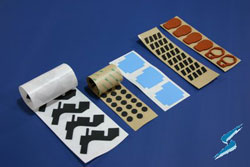 Contact Stockwell Elastomerics for Kiss Cut Gaskets and Pads
Contact Us for further assistance with kiss cutting, including progression kiss cutting, to make custom kiss cut gaskets and kiss cut pads.