Fluorosilicone / Fluorosilicone Rubber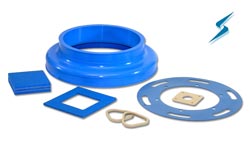 Like silicone, fluorosilicone rubber is a long-lasting elastomer that is stable and compression set resistant across temperature extremes, but unlike silicone, fluorosilicone contains trifluoropropyl groups that enhance its chemical resistance to non-polar solvents, fuels, oils, acids, and alkaline chemicals. The unique properties of fluorosilicone make it a problem-solving material that widely used in industrial, aerospace, automotive and aviation applications for static sealing and cushioning.
Stockwell Elastomerics specializes in fluorosilicone and offers solid sheets, sponge, electrically/thermally conductive solids, molded parts and die cut parts. Visit the Fluorosilicone Data Sheets page for detailed technical information on the most popular available fluorosilicone materials.
Stockwell Elastomerics regularly applies 3M and Adchem pressure sensitive adhesive backings to fluorosilicone. More detailed technical information about applying acrylic adhesive, silicone adhesive and combination adhesive to fluorosilicone is available.
---

Request a Free Fluorosilicone
Touch Brochure
Includes small samples of fluorosilicone materials to touch and feel.
---
SSP4773 High Performance Fluorosilicone
SSP4773-XX is a family of high-performance peroxide-catalyzed, heat cured, fluorosilicone rubber developed for the most demanding applications. This engineered compound is tested and certified to the military standards of Mil-DTL-25988, assuring that critical parts will meet performance expectations without compromise.
SSP4773-XX is a convenient choice because of stock inventory in durometers ranging from 40 to 70 shore "A". The SSP4773 inventory is calendered into rolls 12″ wide with a precise thickness from 0.020″ to 0.125″, or 12″ x 12″ molded sheets up to 0.5″ thick. Stockwell Elastomerics also offers molded, die cut, water jet cut, or flash cut parts made from SSP4773. A variety of acrylic and silicone-based pressure sensitive adhesive backings can be laminated upon request; visit the Adhesives Data Sheets page to see the available adhesives choices.
While standard stock makes SSP4773 available with short lead times and small order quantities, custom constructions and compounds are also available. SSP4773 is also offered with fiberglass reinforcement, in custom colors, with laminates, coatings, or specialty test certifications. View the SSP4773-XX data sheet (PDF) to see the detailed specifications for this material.
---
Commercial Grade Fluorosilicone
In some cases, environmental conditions and performance requirements make fluorosilicone a good choice. But when market constraints lead to cost sensitivities, Stockwell Elastomerics offers commercial grade fluorosilicone rubber. Commercial grade fluorosilicone is offered without the testing and certifications standards that accompany the SSP4773 materials, but have a lower price point. It is available in 36″ wide continuous rolls.
---
Fluorosilicone Sponge, Closed Cell
In addition to solid fluorosilicone rubber, Stockwell Elastomerics maintains an inventory of Saint-Gobain's NORSEAL® R10490 closed cell fluorosilicone sponge. Fluorosilicone sponge is made with a gum base, similar to solid fluorosilicone, but is expanded to introduce a closed cell structure. This expanded fluorosilicone sponge rubber allows for compliance and sealing with much lower force than solid fluorosilicone rubber. Due to the limitation of the expanding process, R10490 is produced to a maximum thickness of 0.125″. However, Stockwell Elastomerics offers bonded laminations up to 0.50″. These laminations are strong and exhibit similar chemical and temperatures properties as the fluorosilicone sponge rubber.
R10490 Specifications
Capable of meeting AMS 3323, Class 2 medium density (tested in 2006)
Capable of meeting Mil-R-6130 Type 2, Grades A, B and C (excluding paragraph 4.5.7 flame resistance)
Capable of meeting ASTM D6576 Type 2 Grades A, B and C (excluding paragraph 15 flame resistance)
Saint-Gobain's NORSEAL® product line was formerly called COHRlastic®.
---
Fluorosilicone Molding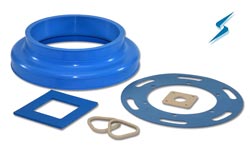 Stockwell Elastomerics is an ITAR registered, USA-based molder of fluorosilicone and electrically conductive fluorosilicone components. Compression molds are domestically manufactured, and custom fluorosilicone components are manufactured in Stockwell Elastomerics' location in Philadelphia, Pennsylvania. Molded fluorosilicone parts are manufactured in compression molds and may be manually or cryogenically de-flashed.
---
Fluorosilicone EMI Gasket Materials
EMI gaskets often require a fluorosilicone base to address chemical exposures. Stockwell Elastomerics offers conductive fluorosilicone sheets and molded, conductive fluorosilicone components with silver plated aluminum particle fill or nickel coated graphite particle fill. Both offer very good EMI attenuation with the added chemical resistance of fluorosilicone.
Conductive Fluorosilicone Rubber
SNEF-50 – 50 durometer fluorosilicone with Nickel plated graphite particle
SCF-444-P – 45 durometer fluorosilicone with passivated silver plated aluminum particle fill
SCF-447 – 70 durometer fluorosilicone with silver plated aluminum particle fill (MIL-DTL-83528 Type D)
Electrically conductive fluorosilicone rubber with silver plated aluminum or nickel coated graphite is available in cured sheets from .020″ to .125″ thick and custom molded gaskets.
---
Specifications Met by Fluorosilicone Rubber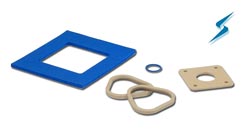 Mil-DTL-25988C, Mil-R-25988, and AMS-R-25988 are frequently used to specify fluorosilicone rubber. All four standard grades of SSP4773 materials meet Type 2 and Class 1, while the 60 and 70 durometer grades meet both types 1 and 2.
AMS 3325 through AMS 3331 are also used to specify fluorosilicone products. FVMQ (fluoro vinyl methyl siloxane) is the ASTM type for fluorosilicone, but FS and FK are also popular abbreviations used to designate this polymer type.
---
Fluorosilicone, Flourosilicone, Florosilicone? Fluorosilicone Rubber?
Occasionally flourosilicone or florosilicone is mistakenly used to specify fluorosilicone products. Fluorosilicone is the correct term and spelling. Fluorinated silicone rubber is a more technical term for fluorosilicone. Fluorosilicone rubber is a common term for fluorosilicone, which is a synthetic material, not made from natural rubber.
---
Contact Stockwell Elastomerics for Fluorosilicone
Contact Us for further assistance with fluorosilicone / FVMQ / fluorosilicone rubber.
---
---
NORSEAL® and COHRlastic® are registered trademarks of Saint-Gobain.