Gaskets and Sealing Solutions for EV Charging Stations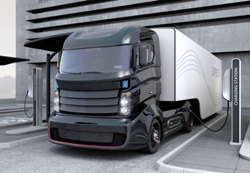 Electric vehicles (EVs) are a growing market segment that includes more than the much publicized consumer vehicles. EVs extend to fleet vehicles like tow tugs at airports, terminal tractors and terminal trucks that move marine shipping containers and warehouse forklifts. The supporting equipment for EVs such as charging stations and battery management systems can be located in a wide range of locations and geographies. Outdoor electric vehicle charging stations can be exposed to rain, snow and ice, while the indoor charging stations usually need to be protected against dust and other foreign debris. Like many other electrical and electronic enclosures, Stockwell Elastomerics provides sealing solutions that meet or exceed regulatory requirements.
UL Standards for EV Charging System Equipment
The UL 2202 standard titled "Standard for Electric Vehicle (EV) Charging System Equipment" is a leading standard for EV charging systems and references many mature UL specifications. UL 50, UL 50E, UL 94, UL 508 and UL 746C are referenced standards that Stockwell Elastomerics has worked with for years. Working with companies such as 3M, Rogers Corporation, Saint-Gobain and Wacker, Stockwell Elastomerics is able to supply high quality materials and custom gaskets to help meet UL 2202.
UL 50 – Enclosures for Electrical Equipment, Non-Environmental Considerations
UL 50E – Enclosures for Electrical Equipment, Environmental Considerations
UL 94 – Standard for Tests for Flammability of Plastic Materials for Parts in Devices and Appliances
UL 508 – Standard for Industrial Control Equipment
UL 746C – Standard for Polymeric Materials – Use in Electrical Equipment Evaluations
Commonly Used Materials in EV Charging System Gaskets and Sealing
Stockwell Elastomerics often uses the following materials to manufacture sealing solutions for electric vehicle charging stations:
EV Charging System Gaskets and Sealing Applications
As with telecom infrastructure, electrical grid and other industries requiring outdoor enclosures to seal against environmental conditions, EV charging stations are used in similar harsh environments. Stockwell Elastomerics is a long time supplier of custom gasket solutionsand retrofit gaskets for off-the-shelf enclosures. Stockwell Elastomerics' Applications Engineers are available to discuss which gasket material and manufacturing process are best for a specific application.
---
Contact Stockwell Elastomerics for Gaskets and Sealing Solutions for EV Charging Stations
Contact Us for further assistance with custom gaskets and effective sealing solutions for electric vehicle charging station applications.
PORON® is a registered trademark of Rogers Corporation.