Semiconductor Manufacturing Equipment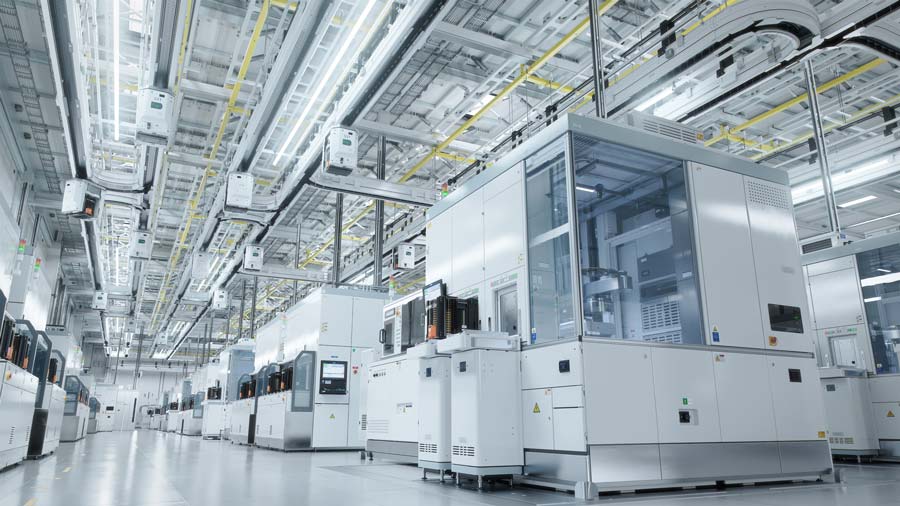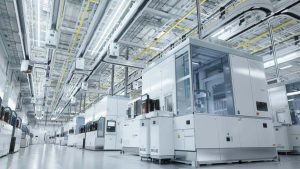 Companies that make semiconductor manufacturing equipment are reshoring production to the United States. Reshoring is bringing the manufacturing of a product back to the USA after it had been shifted to overseas production. Stockwell Elastomerics uses advanced materials to fabricate components for this equipment in low and medium volumes, perfect for customers in semiconductor manufacturing. Examples include silicone, fluorosilicone, and polyurethane foams that are die cut or water jet cut into gaskets that provide environmental sealing and cushioning. Dielectric barriers, shielding against electromagnetic interference (EMI), and protection against electrostatic discharge (ESD) are also fabricated from these and other elastomers.  Small volume production is perfect for this industry, as they require precise, 1-off pieces for low volume equipment or handling equipment within manufacturing facilities.
Silicone vs. Silicon
Semiconductor manufacturing equipment is used to produce semiconductor chips, integrated circuits (ICs) that are formed on semiconductor wafers. These thin, flat discs are made of a semiconducting material that serves as the substrate. Often, the wafers are made of silicon, the second most abundant element in Earth's crust. Silicon metal is also an ingredient in silicone rubber, but silicon and silicone are not the same, despite their similar spelling.
Types of Semiconductor Manufacturing Equipment
The semiconductor industry uses cleanrooms because silicon and other types of wafers are extremely sensitive to environmental contaminants. Within these cleanrooms, chip manufacturers use dicing machines, probing machines, polish and edge grinders, chemical mechanical planarization (CMP) and photolithography equipment, and sliced wafer demounting and cleaning machines. Stockwell Elastomerics supplies die cut, waterjet cut, and molded parts to manufacturers of this equipment that want to reshore operations.  With large amounts of inventory at the ready, Stockwell Elastomerics is able to give material recommendations from a wide swath and create parts quickly.
Environmental Seals and Cushions
Polyurethane gaskets from Stockwell Elastomerics provide environmental sealing against dust and moisture. Applications can include environmental gaskets and seals for sputtering chambers, vacuum pumps, crystal growth chambers, and dosing equipment. PORON® microcellular urethane foams are an excellent choice for dust and splash seals, and these materials from Rogers Corporation come in a range of thicknesses and with compressibility ranging from extra soft to very firm.
With its superior resistance to compression set, these cellular materials can also be used for semiconductor equipment enclosures where doors or hatches need to shut securely and under significant pressure. During semiconductor production, however, a variety of organic solvents, acids, and metals are used. For applications where there is contact with these chemicals, environmental seals can be fabricated from fluorosilicone instead.
Silicone foam gaskets can also provide the sealing and cushioning that are required by some applications. Rogers BISCO® silicone foam and Saint-Gobain NORSEAL® foam come in a wide range of firmness and most have a UL 94V-0 flame rating. Although low-density silicone foams may allow moisture to pass through the cellular structure, higher density silicone foam can be compressed for a watertight seal. With their viscoelastic properties, silicone foam materials also help to reduce the effects of machine vibrations.
Dielectric Barriers, EMI Gaskets, and ESD Protection
Like other forms of electrical and electronic machinery, semiconductor manufacturing equipment needs electrical insulation, especially when high-power electronics are used. Dielectric barriers can prevent the flow of current and are fabricated from solid and foam silicone materials.  When semiconductor wafers contact handling devices, however, triboelectric charging takes place and can lead to an electrostatic discharge (ESD) event. With parts made from electrically dissipating elastomers, these charges can be dissipated.
Cross-talk from circuits in other nearby equipment can also cause electromagnetic interference. The EMI gaskets that Stockwell Elastomerics provides are fabricated from EMI shielding materials that include electrically conductive silicones. Molded fluorosilicone O-rings that provide enhanced chemical resistance are used in photolithography and CMP equipment.
---
Contact Stockwell Elastomerics
Stockwell Elastomerics uses advanced materials and can supply environmental seals, cushions, EMI gaskets, ESD protection, and dielectric barriers to for semiconductor equipment manufacturers that are reshoring their operations. Contact a Stockwell Elastomerics Application Engineer for further assistance.
---

PORON® is a registered trademark of Rogers Corporation.