Stockwell Elastomerics has updated its Silicone Materials Selection Guide – a comprehensive guide offering insight on the properties and benefits of using silicone for gasketing, sealing, and cushioning applications. This guide details Stockwell Elastomerics' silicone rubber materials offerings in closed cell silicone sponge, cast silicone foams, gum based solid silicone and liquid based solid silicone. In addition, many common pressure sensitive adhesives offerings and product-enhancing surface lamination options for silicone foam and silicone sponge rubber are listed.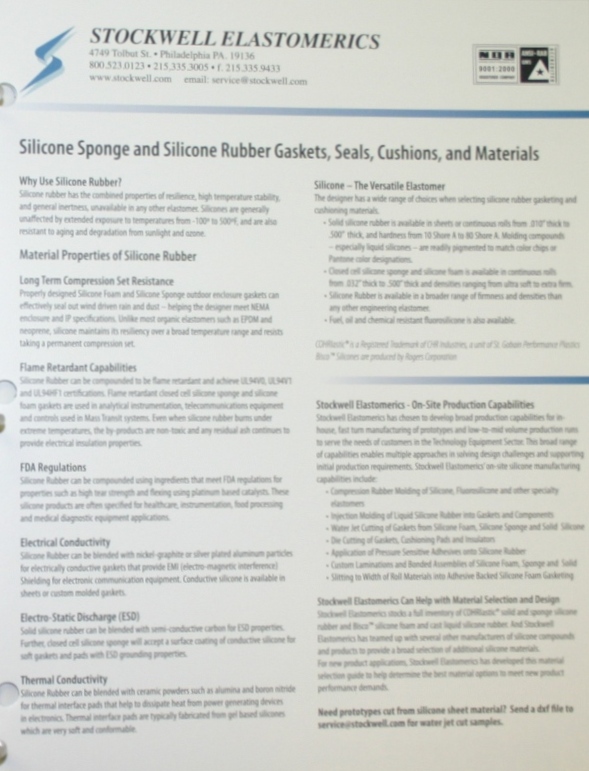 This updated Silicone Materials Selection Guide is a quick "go-to" reference for engineers and designers. Silicone has become the material of choice by engineers for critical gasketing and cushioning applications. This can be attributed to its wide operating temperature range, resistance to compression set (good memory), UV resistance and long life. Stockwell Elastomerics offers fast-turn prototyping for most silicone materials, often utilizing its extensive water jet cutting capabilities to produce cut to size parts from customer supplied CAD files.
Request a Copy of the Silicone Materials Selection Guide
Download this PDF directly from http://www.Stockwell.com/SiliconeGuide or contact Stockwell Elastomerics by phone (215) 335-3005 or email service@stockwell.com to request a printed copy.
Stockwell Elastomerics' core competence is the fabrication and molding of silicone rubber and similar high performance elastomeric materials. In-house capabilities include waterjet cutting, custom molding, die cutting, and adhesive lamination. For more information on Stockwell Elastomerics' offerings in silicone rubber, silicone sheet, molding and fabrication capabilities, please call Stockwell Elastomerics at 215-335-3005 or complete a contact form for assistance.