Stockwell Elastomerics, a 3M authorized converter, has been recognized by 3M as a Select Converter. Stockwell Elastomerics and 3M have been partners for many years. Stockwell Elastomerics does not sell adhesives but rather marries 3M's high performance adhesives with high performance gasket materials.  Stockwell's has a core competence in applying 3M acrylic PSAs to silicone rubber; this includes solid silicone sheet, silicone foam sheet, and silicone sponge sheet materials. Other materials backed by 3M adhesives are Poron urethane foam, closed cell neoprene sponge and EPDM sponge.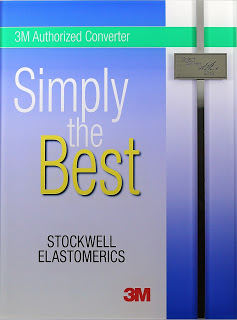 Below is a list of the most common 3M adhesives specified:
3M F9473 – 100MP Series, VHB transfer
3M 467 – 200MP Series, transfer adhesive
3M 9609 – 300MP, film supported adhesive
3M 9490LE – 300LSE, Low Surface Energy, film supported
3M 9472LE – 300LSE, Low Surface Energy, transfer
3M 9485 – 350 Series, transfer adhesive
3M 9795B – 420 Series, Low Surface Energy, transfer
Stockwell Elastomerics offers many adhesive options to combine with most rubber gasket materials. For more information, please call Stockwell Elastomerics at 215-335-3005 or complete a contact form for assistance.