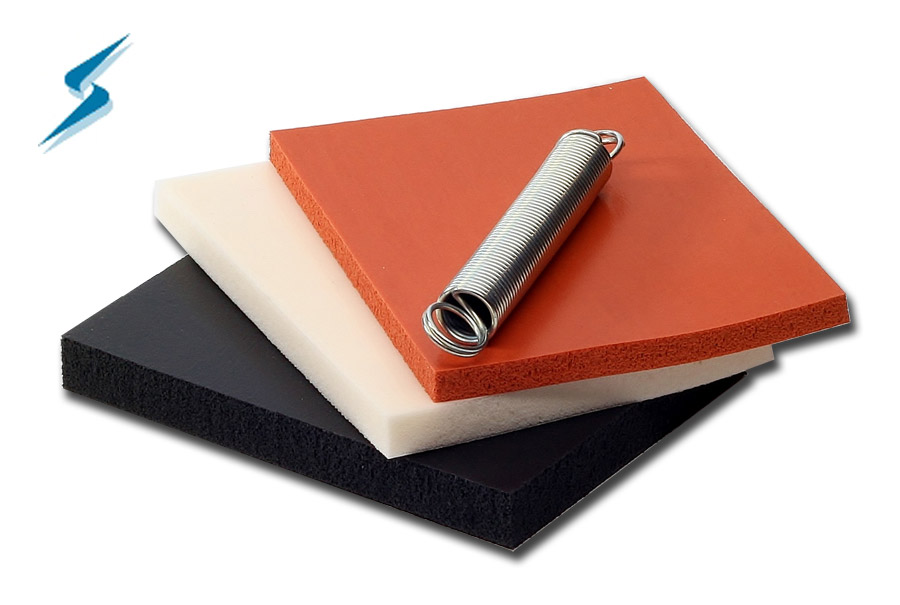 Super Resilient Extreme Temperature Silicone Foam – Stockwell Elastomerics has it! Silicone foam, not to be confused with silicone sponge, is a platinum cured (addition cured) liquid silicone rubber that is expanded. Silicone as an elastomer is very resilient, especially when compared to organic elastomers such as chloroprene. This is attributed to free volume in the molecular make up of silicones that allows the polymer to move more freely making the elastomer more flexible and resilient. This free volume also gives silicones a lower glass transition than organic (carbon backbone) materials, meaning they can naturally perform at lower temperatures without plasticizer. In addition, the Si-O backbone is stronger and less susceptible to breakdown in high temperatures, UV and ozone environments.
Super Resilient Extreme Temperature Silicone Foam is a good description for Rogers Corporation's HT-800 family of silicone foam products. In addition to being super resilient and having excellent temperature properties, they are formulated in various firmness levels and carry a UL 94V-0 flame rating. HT-800, HT-820 and HT-840 are considered closed cell and are qualified by UL for enclosure gaskets, with UL 50 and UL 50E recognition.
Below is a list of performance properties for HT-800 silicones; it's easy to see why these are usually the best gasket materials for indoor and outdoor enclosure gasket applications.
Super resilient (low compression set)
Extreme temperature range
UV and ozone resistant
UL 94V-0 flame rating
UL 50 and UL 50E gasket rating
Inherently fungus resistant
Closed cell foam for water sealing
Long life rubber
Available with or without adhesive from Stockwell Elastomerics
Competitively priced
Silicone foam sheet materials like HT-800 are widely used to seal and ruggedize electronic and electrical enclosures when regulatory compliance and long term performance is critical. Stockwell Elastomerics maintains inventory of the HT-800 silicone foam family of materials and applies high quality 3M adhesives as needed. Stockwell also waterjet cuts and die cuts custom gaskets from resilient silicone foam and silicone sponge sheet rubber. In addition, Stockwell Elastomerics manufactures slits rolls for gasket tape applications.
For more information about Super Resilient Extreme Temperature Silicone Foam, closed cell silicone sponge, and other high performance gasket materials, please call Stockwell Elastomerics at 215-335-3005 or complete a contact form for assistance.