Orange rubber sheets or orange rubber gaskets are quite often silicone rubber, but color can be misleading. The traditional, arguably ugly, orange comes from an iron oxide pigment; this same pigment can be uses in a variety of rubber or thermoplastic rubber materials. To this point, impostor materials can be manufactured that look and feel like silicone but don't have the same physical properties. This is very important if the functional requirements matter – properties such as high temperature resistance, UV resistance, ozone resistance or longevity. Higher quality silicone rubber sheets may be post cured which enhances the physical properties like compression set and out-gassing. So when rubber performance is critical, it's important to work with a manufacturer who understands and certifies the material they are selling.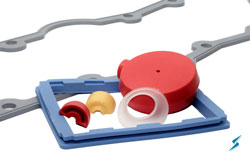 Not surprisingly many OEMs do not want the burnt orange color when the aesthetics are a factor, meaning when the gasket is visible to the end user. Responding to the market, many raw material suppliers offer gum based silicones in black, grey and other colors. Generally, the ugly orange pigment is used for gum based, peroxide cured silicone rubber materials. Liquid based, platinum cured silicones are colorless two part liquids that are mixed and molded or cast. The liquid based platinum silicones are offered as colorless, transparent, black, grey or in variety of colors.
Is the traditional orange silicone color ugly?  That's a point for debate, but when it comes to performance vs. color, performance typically wins.
For more information on silicone sheet materials, molded silicone parts or silicone gaskets and other rubber components, please call Stockwell Elastomerics at 215-335-3005 or complete a contact form for assistance.