We took on a fast-turn project that involved some new capabilities for a customer in the defense electronics sector. One prototype gasket was needed in one week. The catch was that the gasket had to be 41″ wide x 205″ long (17 feet !) with 156, 1.50″ diameter holes cut into a 6.0″ wide flange.
The requested material was .062″ thick closed cell silicone sponge rubber with acrylic adhesive completely coating one side and a 1.0″ wide strip of acrylic adhesive on the top side. As the 41″ width exceeded the 36″ typical material width, we realized splices would be needed. We suggested R10470-M closed cell silicone sponge from Saint-Gobain (formerly CHR) spliced to the finished size.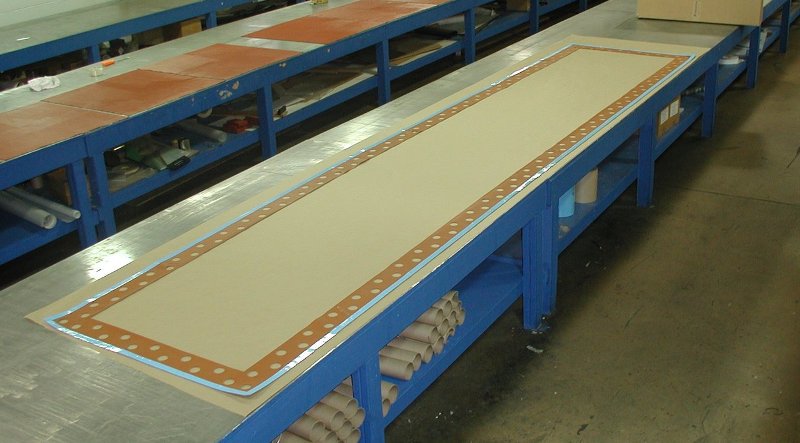 Day 1. The gasket design was received in dxf format, which allowed our engineer to design segments approximately 24″ long containing the 1.50″ diameter holes.
Day 2. After laminating pressure sensitive acrylic adhesive to one side of the R10470-M silicone sponge, the material was water jet cut into the required segments.
Day 3. The gasket was spliced to the final configuration using our new ultraviolet light curing station. Loctite's 5091 UV cure silicone adhesive allowed us to work much faster than a traditional moisture cure RTV would have allowed.
Day 4. With the gasket opened up with the adhesive side down, we used a masking fixture to prime the outer 1.0″ edge of the top surface to apply a 1.0″ wide strip of acrylic pressure sensitive adhesive. An extensible release liner was applied to the top side to permit rolling the gasket on a 6″ diameter core for shipping and handling.
This large prototype gasket gasket was successfully provided to the customer in a timely manner.
For applications assistance or more information about large gaskets, please call Stockwell Elastomerics at 215-335-3005 or complete a contact form for assistance.