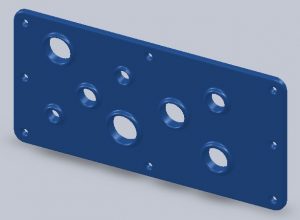 Gland plate gaskets are the "other" enclosure gaskets. Most often doors are the focus when it comes to sealing an enclosure. Stockwell Elastomerics often makes electrical enclosure gaskets, rack enclosures gaskets, and even handheld electronics battery door gaskets. Gland plates are another ingress point that also requires sealing.
A gland plate is a removable plate on an enclosure where wiring or connectors enter, it is often modified for custom applications. The gland plate is mounted to the enclosure with a series of fasteners. Proper sealing of the gland plate with an appropriate material for the application is critical for protecting the unit.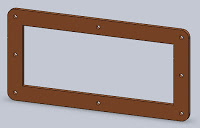 Poron urethane foam is a good option for NEMA Type 3, IP54 and lower. More aggressive requirements such and NEMA Type 4, IP64 and up may require closed cell materials or solid material. Outdoor applications intended for long life should consider silicone sponge, silicone foam or solid silicone due to its resistance against UV and ozone (possibly generated in the enclosure).
Gland plate gaskets or gland plate seals can vary widely depending on the enclosure design, the end use and environment. For more applications assistance or more information about a gland plate gasket or enclosure gasket, please contact Stockwell Elastomerics at 215-335-3005 or visit www.stockwell.com.