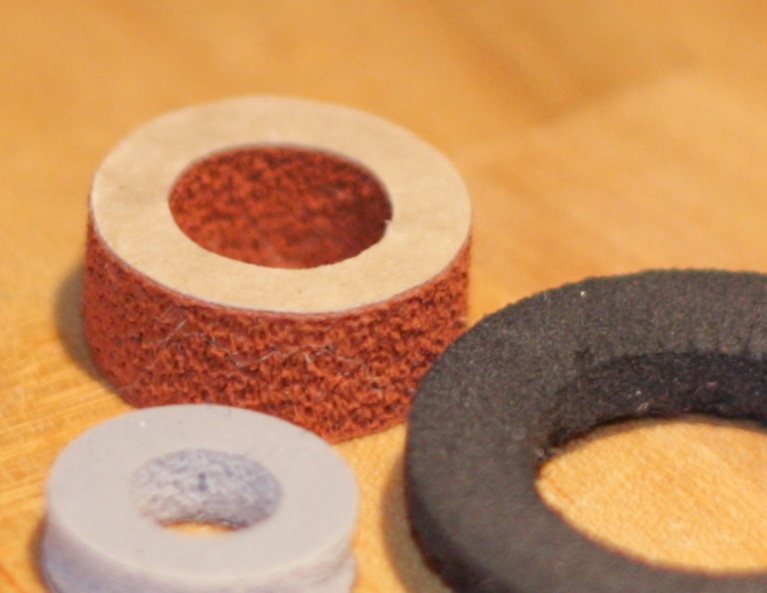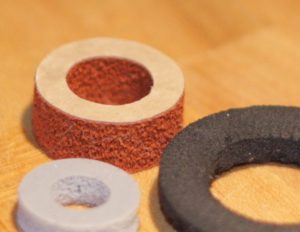 Stockwell Elastomerics often receives customer drawings that are simple, concentric, inside diameter (ID) outside diameter (OD) parts. These parts have varying ID and OD combinations, some having outside diameters of 3 feet or more, while others as small as 0.13". Large ID OD parts are more often referred to as gaskets, smaller parts often are called washers or sometimes rubber seals.
Concentric ID OD gaskets, washers or rubber seals can be produced in a few ways; the most common is by die cutting with steel punch sets which are available in many ID OD combinations, but not all. Stockwell Elastomerics regularly waterjet cuts customs washers and gaskets to meet non-standard ID OD combinations. Custom washers are often made from silicone, fluorosilicone, neoprene, EPDM and fluorocarbon (also known as Viton™ made by DuPont). Typically we think of washers being made from stock materials like solid silicone sheets for water seals or fluid sealing, however, ID OD rubber seals are also used for dust sealing and even shaft cushions. Dust gaskets are often made from Poron®, which is a microcellular urethane foam.
Stockwell Elastomerics can manufacture custom silicone gaskets, custom foam gaskets, and custom rubber seals to meet most sealing and gasketing needs.
For applications assistance or more information about custom washers and custom gaskets, please call Stockwell Elastomerics at 215-335-3005 or complete a contact form for assistance.
PORON® is a registered trademark of Rogers Corporation.
Viton™ is a trademark of The Chemours Company FC, LLC.