Our team from Stockwell Elastomerics, supported by the City of Philadelphia and our neighbor Lannett Company, completed an Earth Day event targeted at cleaning up part of Tolbut Street in Philadelphia where our company is located. Earth Day April 22, 2021, themed "Restore Our Earth, presented some weather challenges, so the event was rescheduled for May 12, 2021, reaffirming that every day is Earth Day.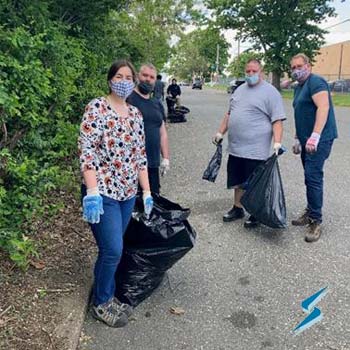 Stockwell Elastomerics is a 100+ year old technical manufacturing firm with strong ties to the city of Philadelphia. We were eager to band together with the city and the company next door to play a part in support of Mother Earth. 17 employees of our employees, led by organizers Elizabeth Gorman and Sandy Greenhalgh, removed more than 500 pounds of trash and debris from the 4700 block of Tolbut Street.
We worked together to clean up our street and the surrounding area as effectively as we work together to manufacture high performance elastomer products. After the event, we joined together for some fun and a meal. Our group of volunteers is already looking forward to another event later this year as well as starting the planning for Earth Day 2021, on April 22, 2022.
Things to Think About in Support of Our Planet (adapted from "The Old Farmer's Almanac")
Support our Pollinators
Clean Up
Plant a Tree
Use Wildflowers and Native Plants
Conserve Water
Think About Your Diet and Decrease Food Waste
Get Kids Involved
– Tom Rimel, President, Stockwell Elastomerics