Today we broke ground on an additional facility that will increase our capacity to store more of the "core" materials required to support our production and rapid response service model. These materials include silicone foam, closed cell silicone sponge, solid silicone sheets and PORON® microcellular urethane foam.
---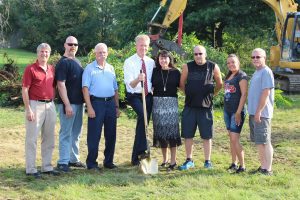 From left to right: Bob Walsh, Plant Manager, Chris Moore, Material Handler, Jay Hough, Process and Production Engineer, Bill Stockwell (holding shovel), President, Sandy Ratcliffe, Controller and Treasurer, Jeff Groner, Material Handler, Jennifer Nunez, Shipper, Keith Bossert, Fabrication Production Manager.
---
Over the past few years we experienced situations where we were running out of room. Production was competing for space against floor space allotted for raw material storage. The expansion will allow for more efficient storage and contribute to increasing production floor space. Furthermore, the new building is being designed to include a second floor mezzanine for additional offices, work areas and meeting rooms.
We were fortunate to be able to purchase some adjacent land from a neighboring business. This allows us to remain in our same location and add the additional building. Since we are located in Philadelphia, there were plenty of regulatory matters to resolve prior to breaking ground. We look forward to getting into the new facility and increasing inventory levels to "fill the wagon" and to support the needs of our customers. We anticipate moving in to this new building by the end of March 2018.