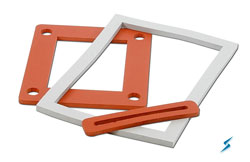 It is not a rare occurrence at Stockwell Elastomerics to receive an urgent call requesting next day gaskets or pads. Many times there is field requirement or engineering build where time is critical. Stockwell Elastomerics inventories a wide range of materials and thicknesses. Stock materials include solid silicone, closed cell silicone sponges, UL rated silicone foams, neoprene sponges, EMI gasket materials, and thermal management materials just to name few. These stock materials, in combination with 3 in-house water jet cutting, die cutting and molding presses with 12″ x 12″ sheets molds, allow for quick response to urgent request.
Helpful hints for fast gaskets to fix a problem or meet a deadline:
Supply an electronic CAD file (2D .dxf or 3D .iges)
Work with in-stock materials
If an adhesive backing is required, inform us of the type of metal, plastic or painted surface to be bonded to
Indicate smallest quantity required
Provide ship-to information and carrier account number
Supply a credit card or purchase order (existing customers)
Providing an electronic CAD file helps expedite the waterjet programming. With a wide cross section of materials in stock, Stockwell Elastomerics can usually find a material to meet gasketing requirements. Since it is often a race against the clock / shipping pickup, knowing the minimum quantity helps to manage processing. Often additional parts can ship within a few days.
For applications assistance or more information about fast turn gasket manufacturing, please call Stockwell Elastomerics at 215-335-3005 or complete a contact form for assistance.