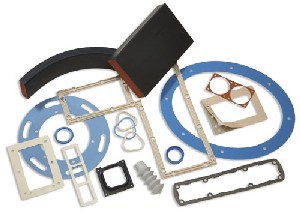 Fluorosilicone (FVMQ) is fluorinated version of silicone which gives this polymer superior chemical resistance. Fluorosilicone is used where extreme temperature ranges (relative to "rubber") are required and where aggressive fluids may be present.
The aerospace & defense, automotive and green energy industries often use fluorosilicone for its cross-functionality. Fluorosilicone has ability to maintain its mechanical properties over a wide temperature range, is UV and ozone resistant and has excellent chemical resistance particularly to fuels and oils.
Stockwell Elastomerics offers fluorosilicone in its many forms including solid fluorosilicone sheets, soft fluorosilicone sponge, molded fluorosilicone parts, and electrically conductive fluorosilicone (used for EMI gaskets). Sheet grades are readily die cut or waterjet cut on site. Similarly, fluorosilicone parts are molded onsite at Stockwell Elastomerics.
For more information about solid fluorosilicone gaskets, fluorosilicone sponge, or other custom gasket fabrication applications, please call Stockwell Elastomerics at 215-335-3005 or complete a contact form for assistance.
Link to: fluorosilicone data sheets.