About four years ago, Stockwell Elastomerics' Applications Engineering team started an experiment to see the effects of different environmental factors on gasket materials. This was done by placing 37 specimens of material onto a board and placing it on the roof of the office building. While there, the materials endure extended periods under direct sunlight, rain, snow, wind, and temperatures ranging from 0°F to over 100°F. View the previous blog posts from the start of the test, one year update, and two year update.
The gasket materials that are being tested represent many of the materials offered by Stockwell Elastomerics. Specimens included solid silicone, silicone sponge, silicone foam, fluorosilicone and urethane foam, along with other materials not typically offered such as neoprene and EPDM. The biggest takeaway is that even though there was significant discoloration on some samples, this is purely cosmetic and can be wiped away with water. Some materials were lost fairly quickly to the elements, while most withstood the elements very well.
Here is how the materials compare after four years of exposure to the environment.
---
---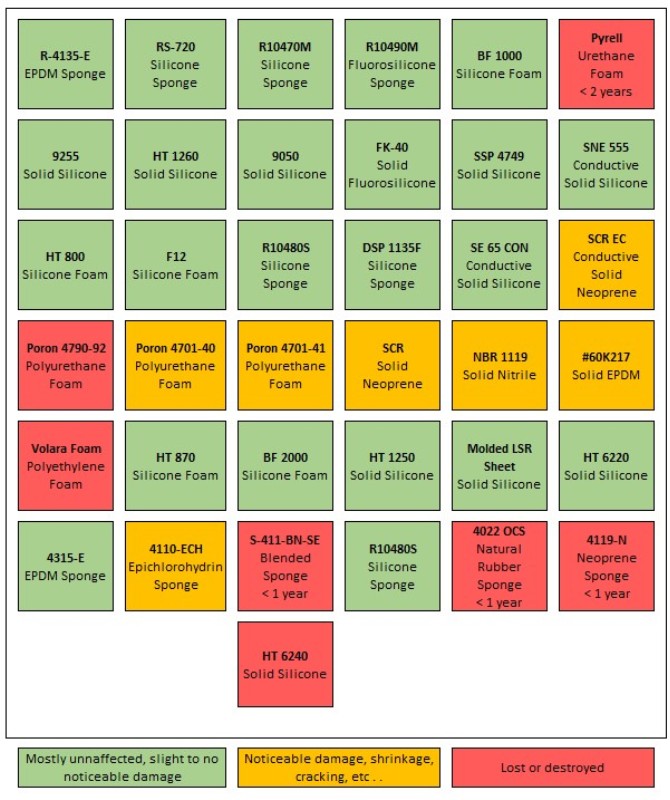 ---
As shown in the chart, the material swatches have endured some intense environmental surroundings. One aspect explored in this 4 year update is how much of the visible damage was permanent UV damage versus simply dirt and debris. One sample in particular, a platinum cured solid silicone, sparked this observation, as it looks drastically different from the start of the test to now. The 4 year old platinum cured solid silicone sample was wiped with a damp towel to see how much of this discoloration was just dirt and debris.
After wiping down the bottom right corner of the sample, almost all of the discoloration was just dirt. The material kept its original texture and properties. After seeing these results, it was important to see how others fared with the same test.
---
Below are comparisons for the other materials, with the photo of the material at start of the experiment on the left, and the current status on the right. Small portions of the materials were wiped down with a damp towel in order to see the true surface finish without dirt. The samples below are of 50A gum based solid silicone, modified closed cell silicone foam, medium firmness closed cell silicone sponge, fluorosilicone sponge, and cellular urethane foam respectively.
---
Another test to show the durability of these materials after 4 years was tensile testing. Each of the materials was put through a tensile test and compared to fresh material. Four samples of fresh material were tested and averaged. These averages were put up against the results from the samples taken from the roof. The silicone based materials performed as expected, as there was no substantial change in tensile strength for these materials.
Tensile Testing
Material
% Change in Tensile Stress
% Change in % Elongation
50A Gum Based Solid Silicone
+13.5
+2.15
Fluorosilicone Sponge
+1.7
+8.99
Medium Firmness Closed Cell Silicone Sponge
+22.5
+4.03
Modified Closed Cell Silicone Foam
+23.37
+46.3
Cellular Urethane Foam
-65.2
-18.4
As a result of these tests, it is clear that silicone based materials can withstand UV and environmental changes. The unique chemical composition of silicone makes it extremely resilient, even under extreme UV and environmental conditions. This is why it performed as expected with tensile testing and visual observation. The modified closed cell silicone foam has very interesting results as the % elongation increased much more than expected. More testing will be done in the future in order to examine this property.
The urethane foam performed as well, if not better than, expected. Initially, this material was not expected to survive the elements. By getting to the point of tensile testing it shows this material has more integrity than expected. The results reinforce that urethane foams are a great choice for applications that do not see extended direct UV exposure. They have great compression set and shock absorbing properties. It is important to remember these factors when choosing materials as these long-term effects could determine the parameters for a necessary material. More long term performance testing will continue at Stockwell Elastomerics in order to strengthen material selection knowledge.
---
Stockwell Elastomerics' Applications Engineers often provide engineering technical tips to customers that consider exposure to weather, sun and temperature extremes, based on their knowledge and experience about these and many other gasket materials. Contact Stockwell Elastomerics for further assistance.