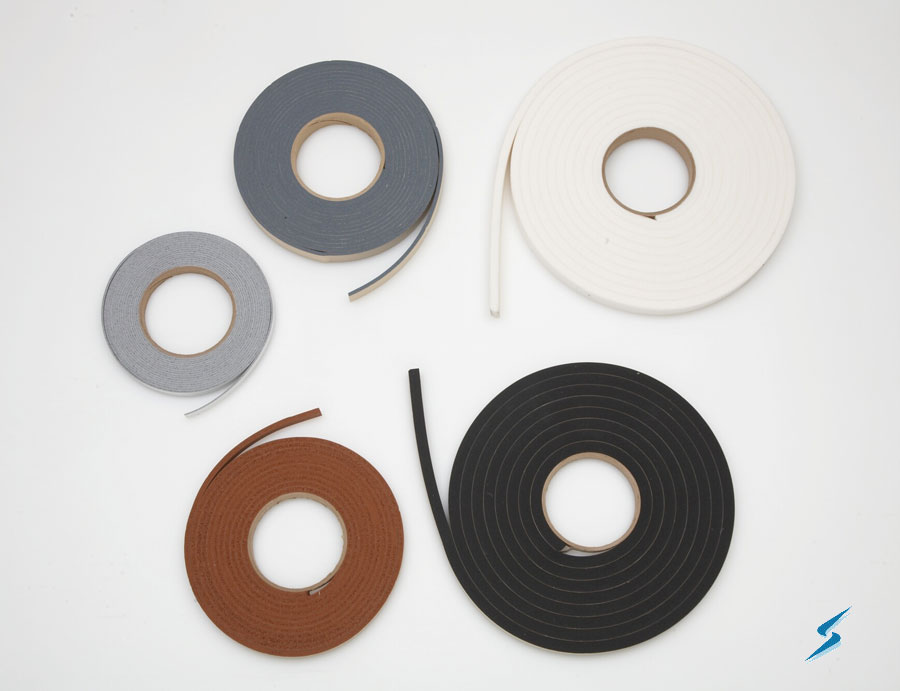 Gasket tape, Strip-N-Stick® and strip gasket are common names for a strip of gasket material with peel and stick adhesive backing. Gasket tape is supplied on a roll and widths can be cut as needed, typically 0.5″ to 3″. Strip gaskets are good for dust and light pressure water seals such as NEMA3, IP61, IP62. It should be noted that closed cell foam, closed cell sponge or solid materials should be used in water sealing applications and the enclosure should not allow water pool on the gasket. For aggressive water seals such as NEMA 4, NEMA 4X, IP65 and IP66, enclosure design, material selection, and gasket joints play a greater roll in enclosure sealing.
Gasket tape materials can vary from open cell urethane foams such as PORON®, closed cell silicone sponge such as R-10470 & R-10480 and even solid rubber materials can be provided in strip gasket form. Various adhesive backings are also readily available; most common are acrylics but rubber and silicone adhesives are also available. Gasket tape is available in standard configurations such as the Saint Gobain's Strip-N-Stick™ silicone sponge and silicone foam tape products. Stockwell Elastomerics can also apply any variety of 3M or Adchem adhesives to PORON® foam, neoprene sponge, BISCO® silicone foam and slit strips (gasket tape) as needed.
For more information on gasket tape and strip gaskets, please call Stockwell Elastomerics at 215-335-3005 or complete a contact form for assistance.

Strip-N-Stick® is a registered trademark of Saint-Gobain.
PORON® and BISCO® are registered trademarks of Rogers Corporation.