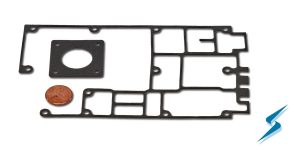 SNE-540-R and SNE-556-R are 40 and 65 durometer (Shore "A"), respectively, and have low volume resistivity that challenges silver coated aluminum filled silicones at a fraction of the cost.
SNE-540-R and SNE-556-R have conductive fabric reinforcement that enhances the conductivity and tensile strength but still allows for Z-axis compression in EMI gaskets and environmental sealing. Traditional particle-filled silicone rubber materials have lower strength due to the heavy loading of conductive filler. This lower strength is often problematic for gaskets with thin walls that are susceptible to breaking or over stretching. The fabric reinforcement in SNE-540-R and SNE-556-R addresses these issues.
Additionally, SNE-540-R and SNE-556-R fabric reinforced EMI silicones are manufactured in continuous rolls (12″ and 15″ wide) which enable large EMI gaskets to be made in one piece. Standard thicknesses for SNE-540-R and SNE-556-R are .020″ and .032″, custom thicknesses are also available.
See the Highly Conductive Reinforced Nickel Graphite Filled Silicone section of the EMI Sheilding Materials page for more details, and view the SNE-540-R data sheet (PDF) and SNE-556-R data sheet (PDF) for additional technical information.
Benefits of SNE-556-R Reinforced EMI Gasket Material
• High conductivity EMI gasket
• Continuous EMI Sheet Roll
• Cost benefit from nickel graphite filled silicone
• Dimensional stability of cut EMI shielding gaskets
• Environmental sealing EMI Gasket
• Available with 3M conductive adhesive backing
Example 1: In an EMI enclosure with many bolts, the reinforcement prevents the gasket from stretching during installation ensuring holes in the EMI gasket align well with the fastener holes in the enclosure.
Example 2: In an EMI gasket with narrow walls, the reinforcement allows the part to be handled and installed without breaking (see above image).
For more information about SNE-540-R and SNE-556-R fabric reinforced EMI silicones and other EMI gasket solutions, please call Stockwell Elastomerics at 215-335-3005 or complete a contact form for assistance.
Click to view additional EMI materials information.