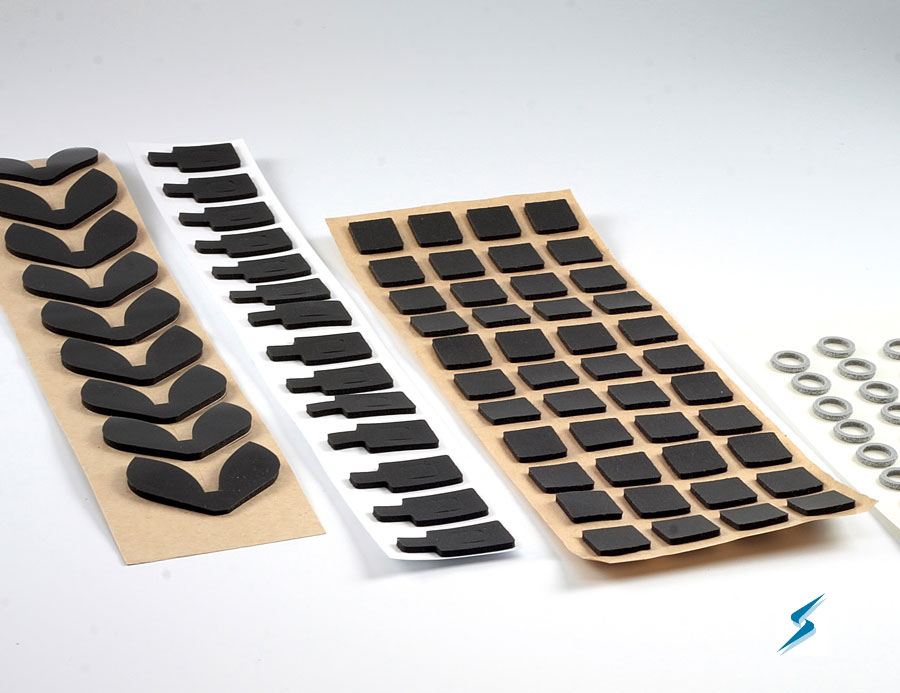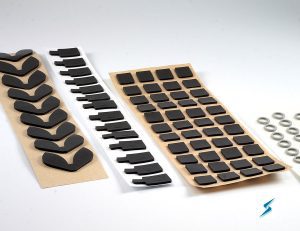 Stockwell Elastomerics manufactures custom gaskets from a variety of high performance rubber materials; the majority of fabricated parts are provided with an adhesive backing. The adhesive backing on gaskets provides several benefits – one key benefit is the aiding in assembly and increased throughput.
Smaller gaskets or pads can be kiss-cut on a roll as shown below – this allows assemblers to peel the part off of the liner and quickly install without fussing with the liner. Certain parts are unable to be kiss-cut for various reasons; in these cases they are individually cut, requiring the assembler to remove the liner from each gasket. Certain cutting processes can make it difficult to remove the liner from the gasket. To address this, Stockwell Elastomerics offers easy release secondary liners. Stockwell Elastomerics' easy release liners greatly improve assembly throughput and assembler frustration. In some cases parts can be damaged from assemblers trying to pick the liner off. Stockwell Elastomerics proactively provides these easy release liners to help ensure customer satisfaction.
Below is a video that illustrates the advantage of using easy release liners from Stockwell Elastomerics. The video also demonstrates how to remove pressure sensitive adhesive liners from soft foam materials.
---
Secondary Release Liner for Easy Peel Foam Adhesive Backed Gaskets Demo
---
For more information about easy peeling liners for foam gaskets, silicone foam gaskets with adhesive or PORON foam with adhesive, please call Stockwell Elastomerics at 215-335-3005 or complete a contact form for assistance.