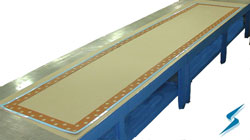 Occasionally we receive inquiries for a large custom gasket. In some cases they are extreme such as the one shown here. In many cases they are for NEMA enclosures (commonly NEMA 4). A single piece gasket generally offers the best seal, however many gaskets exceed the width of the material. In this case a jointed corner may be an option.
Single Piece – a single piece gasket will offer consistent deflection force around the gasket. The con to a large single piece gasket is the center waste. If engineers are making multiple gaskets, they can create an assembly level drawing that show several gaskets nested.
Joint and Bond – when a single piece is required but the gasket dimensions exceed the material dimensions, a jointed and bonded gasket may be an option. In most cases this is a die or water jet cut male/female dove tail that is then UV bonded. This type of gasket needs to be evaluated to see that the extra labor of bonding does not exceed the material savings. Also, for foams and sponges the corners will be firmer than the gasket material.
Joint (no bonding) – similar to the Joint and Bond gasket, a male/female dove tail is die or water jet cut. In this case the gasket is provided in 4 pieces and is mated during installation. In some cases a bond is never required. This is mostly dependent on the enclosure configuration and the level of sealing required.
Materials most commonly used for large custom gaskets are silicone foam and silicone sponge. Since the sealing area is relatively large (i.e. square inches) the soft nature of these materials allow for lower closure forces to get proper deflection for sealing.
For applications assistance or more information about large custom gaskets, please call Stockwell Elastomerics at 215-335-3005 or complete a contact form for assistance.