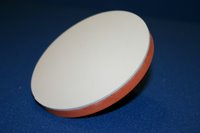 One thing we do quite often at Stockwell Elastomerics that is not highly publicized is material lamination. In some cases we laminate standard sheet goods to create a non-standard thickness. In other cases we laminate materials for performance properties. For example, we laminate UHMW film, Teflon-coated fiberglass or high strength silicone to sponge or foam to create a tough surface for a pad or elastomeric spring. We occasionally are asked to laminate foils or electrically conductive fabric to sponges or foam to resolve ESD or EMI challenges.
It is common for us to laminate a pressure sensitive adhesive (PSA) to a base material such as silicone sheets (solid, sponge, or foam), urethane foam (Poron®), or "organic" sponge. PSAs are typically applied to one or two sides of the base material. We stock a wide range of PSAs which we are able to choose from to best fit our customers' application.
All laminations we do are to meet specific requirements or to resolve interesting challenges that our customers encounter. Combining several materials allows for a much broader range of performance capabilities. For applications assistance or more information about material lamination, please call Stockwell Elastomerics at 215-335-3005 or complete a contact form for assistance.