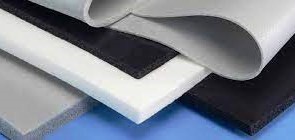 Saint-Gobain Norseal® silicone foam is a family of flame-retardant elastomers with low toxicity and smoke generation. These cellular materials are expandable, conformable, and have a low compression set. They're non-corrosive for use with metals in hostile environments, and provide weather, ozone, UV, and fungus resistance for outdoor use. From aviation and mass transit to the automotive, electronics, construction, and furniture industries, Norseal silicone foam provides an alternative to other silicone foams available in the market.
Two Types of Silicone Foam


There are two types of Norseal silicone foam: F-12 and F-20. Both are available in variety of thicknesses, have a temperature range of -60°F to 400°F, and pass UL 94 V-0 and Bombardier SMP 800-C tests. F-12 passes FAR 25.856 (A-1 and B), and F-20 passes FAR 25.853 (12s & 60s). F-12 is typically cast 36" wide (some thicknesses 18" wide). F-20 is available as a 36" roll only. The standard color for these silicone foams is gray; however, they're also available in white or black.
Norseal Silicone Foam, Sheet Material
PDF#
Material
Manufacturer
Deflection (psi)
Description
402
F-12
Saint-Gobain/Norseal
1 – 6
Extra Soft, Open Cell, Silicone Foam
405
F-20
Saint-Gobain/Norseal
6 – 14
Medium, Modified Closed Cell, Silicone Foam
F-12 has a compression force deflection (CFD) value of 1-6 psi. F-20 has a CFD value of 6-14 psi. Those values are when the material is compressed 25%, per ASTM 1056.
---
Norseal F-12 Silicone Foam
Norseal F-12 silicone foam has a modified cellular structure and is a low-density, conformable material for lighter-duty gasketing and insulation. Its material properties include flame retardancy, low toxic gas emissions, and excellent compression set resistance. Applications for this fire-blocking silicone foam include fire- and heat-resistant gaskets, sealing and cushioning, and radiant heat shields and insulation blankets. Standard Norseal F-12 has one smooth side and one textured side; however, a smooth finish on both sides is available as a custom option. There are nine thicknesses available, beginning at 1/16″.
Download the F-12 silicone foam data sheet
---
Norseal F-20 Silicone Foam
Norseal F-20 silicone foam has a finer, closed-cell structure and is medium-density silicone foam for applications that need to meet stringent flame, smoke, and toxicity (FST) requirements. Examples include aircraft, aerospace, military, mass transit, and electronic applications. Because F-20 provides excellent resistance to environmental conditions, this silicone foam is an excellent choice for both indoor and outdoor sealing and gasketing. Unlike standard F-12, standard F-20 is smooth on both sides. There are eight thicknesses available, beginning at 1/32″.
Download the F-20 silicone foam data sheet
---
Request a Quote for Norseal Silicone Foam
Stockwell Elastomerics is an authorized Saint-Gobain converter and converts Norseal silicone foam with waterjet cutting, die cutting, or rolling slitting and can apply pressure sensitive adhesive backings to silicone sheet products. Contact a Stockwell Elastomerics Application Engineer to request a quote or for more information about silicone foam.
---
Norseal® is a registered trademark of Saint-Gobain.