Stockwell Elastomerics is known for its readily available inventory of high performance silicone foam. While supply chain challenges persist for the near term, Stockwell Elastomerics is positioned to support its customers in the silicone foam market.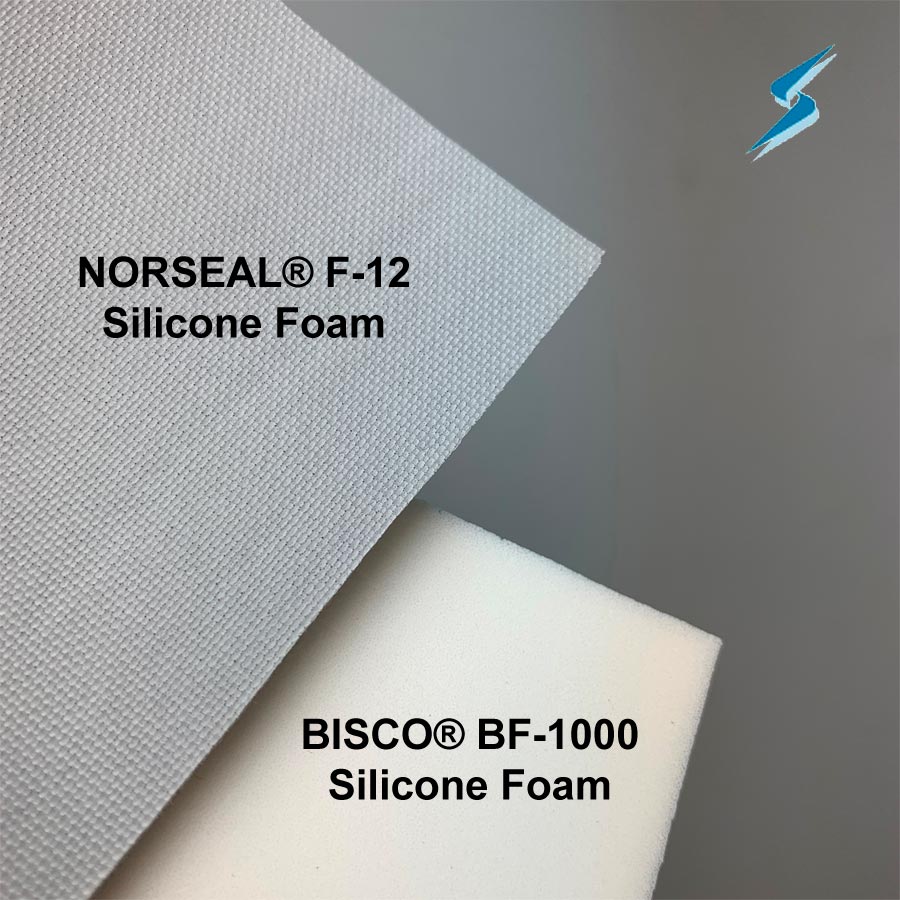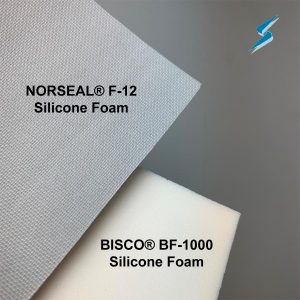 Rogers Corporation and Saint-Gobain manufacture high performance, platinum cured silicone foam. Although their products have some minor differences, all of them provide the unique benefits of silicone foam. Rogers' BISCO® and Saint-Gobain's NORSEAL® silicone foam product families are described in more detail on the silicone foam materials page.
Silicone foams are offered in different firmness values, cell structures, and densities. These details may be important to create a robust seal for each specific application. Technical data sheets with more specific are available on the silicone foam datasheets page. BISCO HT-800 and NORSEAL F-20 are great where water sealing is required (typically IP66 range).  NORSEAL F-12, BISCO BF-1000, BISCO HT-870 are considered open cell structure. They can handle splashing but are better for applications that don't require rigorous water sealing. These include thermal management, dust, splashing, etc.
The chart below compares many of the soft to medium firmness silicone foams.
Silicone Foam Comparison
F-12
BF-1000
HT-870
F-20
HT-800
Cell Structure
OPEN
OPEN
OPEN
CLOSED
CLOSED
Finish
Fine Texture 1-side
Smooth 1-side
Smooth
2-sides
Smooth
2-sides
Smooth
2-sides
Smooth
2-sides
Compression Force Deflection1
(Typical)
1-6
3.0
1-5
2.4
1-7
4
6-14
10
6-14
10
Compression Set2
(Typical)
5.0
1.7
1.6
<5
2.4
Density (lb/ft3)
12.0
12.0
15.0
20.0
22.0
Elongation3
60
>60
90
60
80
Tensile Strength4
25
>20
30
30
45
Thicknesses
0.063″ – 1.0″
0.063″ – 1.0″
0.062″ – 0.5″
0.062″ – 0.5″
0.062″ – 0.5″
Flame Resistance
UL 94V-0
UL 94V-0
UL 94V-0
UL 94V-0
UL 94V-0
Temperature Range
-67 to 392°F
-67 to 392°F
-67 to 392°F
-67 to 392°F
-67 to 392°F
1Force/Deflection, PSI (Compressed 25% at 73°F) per ASTM D1056
2Compression Set, %, (Compressed 50% for 22 Hours at 212°F) per ASTM D1056
3Elongation at Break, %, per ASTM D412
4Tensile Strength, psi, per ASTM D412
If an acrylic adhesive backed foam, silicone adhesive backed foam, alternative silicone foam, or custom lamination of dissimilar materials is needed, Stockwell Elastomerics can use its expertise in silicone bonding to provide the product that meets specific requirements. Alternatives include off-the-shelf, semi-custom, or fully custom options.
---
Get More Information or Request a Quote for Silicone Foam
Contact a Stockwell Elastomerics Application Engineer for help with silicone foam.
---
BISCO® is a registered trademark of Rogers Corporation.
Norseal® is a registered trademark of Saint-Gobain.