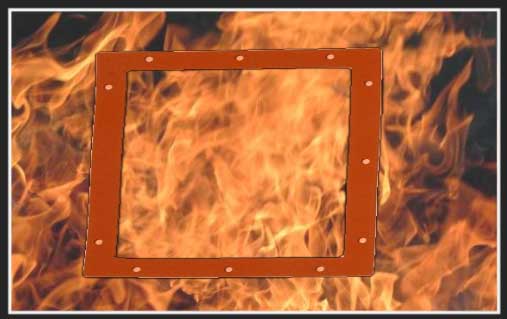 Whether you are designing a pad or gasket it is important to know how the environment will affect the part. In most cases, pad and gasket are dynamic in their operation. As an example a door gasket on a NEMA enclosure will compress and rebound as the enclosure heats up and cools off due to thermal expansion. If the gasket loses its ability to rebound (i.e. takes a compression set) or even worse brakes down, the seal could be lost leading damage or system failure.
Excessive heat can be linked to many gasket failures in the form of compression set. I recently saw a sprinkler control enclosure that used a sponge cord (likely a chloroprene blend) that took a major compression set. This set made the gasket virtually useless. In a wind driven rain situation, there would be ingress of water. Luckily this box was mounted inside a garage. It is important to know that elevated temperatures can encourage compression set. ASTM has tests for sponges and foams at 2 different temperatures 158°F & 212°F.
Catastrophic failure of a gasket or pad can also be attributed to exceeding the operational temperature of the "rubber". Below is a list of materials and their general operating temperature ranges. Note, refer to specific manufactures datasheet before selecting a material.
General Operating Temperatures for Common Materials*
Urethane: less than 250°F (121°C)
Natural Rubber: less than 250°F (121°C)
Chloroprene (Neoprene): less than 300°F (149°C)
Nitrile (Buna-N): less than 300°F (149°C)
EPDM: less than 400°F (204°C)
Fluorosilicone: 400 – 500°F (204 – 260°C)
Fluorocarbon: 400 – 500°F (204 – 260°C)
Silicone: 400 – 500°F (204 – 260°C)
*Temperatures are general, values will vary with grade. Refer to specific specifications for actual product temperature ratings.
For more information about gasket and pad materials such as solid silicone, silicone sponge, silicone foam, fluorosilicone sponge, neoprene, EPDM, nitrile, Poron urethane foams or other gasket materials, please call Stockwell Elastomerics at 215-335-3005 or complete a contact form for assistance.