Stockwell Elastomerics announces a new addition to the series of touch brochures – the Silicone Foam Touch Brochure is now available to assist engineers and designers with selecting the proper gasket material. This tactile brochure has six silicone foam buttons, ranging from Ultra Soft to Extra Firm.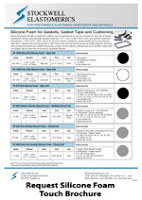 Silicone foams are used in a wide range of applications – soft, open cell grades are often used for dust gaskets and cushioning pads, closed cell versions are used for environmental gaskets in electronics and electrical enclosures.
Applications for silicone foam include:
• Displays: touch screen gaskets and LCD display gaskets
• Data acquisition (handheld scanners): ruggedizing gaskets and cushions
• Lighting: outdoor gasket, light leak gasket, induction, plasma, LED gaskets
• Electrical enclosures: NEMA gaskets, UL50 gasket, IP gasket
• Asset tracking: GPS gasket, RFID gasket
• Test equipment: scale gasket and measuring device gaskets
• Electronic housings: extruded enclosure gaskets, thermal insulation, cushions
• HVAC: high temperature air diverters, gasket tape
• Rail and Aerospace: gaskets and cushions (good flame, smoke and toxicity)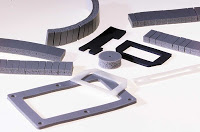 Silicone foam materials offer high performance at a competitive cost. Silicone is inherently UV and ozone resistant, has excellent rebound (compression set resistance), is flame rated and meets several UL specifications. Stockwell Elastomerics manufactures custom silicone gaskets by die cutting, waterjet cutting, or slitting to customer specifications. Adhesive lamination to silicone foam products is also available.
The Silicone Foam Touch Brochure can be requested online; there is no charge for this tactile brochure. For applications assistance or more information about silicone foam, please call Stockwell Elastomerics at 215-335-3005 or complete a contact form for assistance.