Stockwell Elastomerics carries a wide range of materials so that we can meet the demands of most applications. Over the years silicone has grown to be our core material. We are seeing more and more engineers specifying silicone products into their design because of its unique properties. Stockwell Elastomerics stocks sheet good materials and compounds for custom silicone gaskets and molded silicone parts.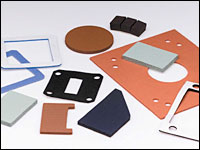 Key properties:
• High Operating Temperature
• Low Operating Temperature
• UV resistant
• Ozone resistant
• Excellent compression set resistance (rebound)
Silicone offerings include:
• Silicone Foam – that is UL94 V0 rated, excellent for electrical enclosure
• Closed Cell Silicone Sponge – for soft water gaskets such as IP 66, IP 67, and NEMA 4
• Solid Silicone – for water tight seals where higher closure forces are available
• Custom Molded Silicone – standard 20 durometer thru 70 durometer
• Electrically Conductive Silicone – for EMI and ESD gaskets
• Thermally Conductive – for gap pads and press pads for thermal management
• Adhesive Backed Silicone – Stockwell Elastomerics applies pressure sensitive adhesives (acrylic and silicone) to most materials in stock
For more information regarding silicone gaskets, please call Stockwell Elastomerics at 215-335-3005 or complete a contact form for assistance.