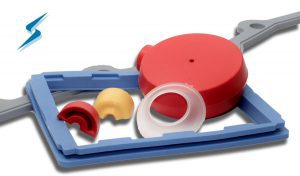 Stockwell Elastomerics serves the medical diagnostics devices industry, producing silicone gaskets and cushioning pads that meet the mechanical and other application requirements.
Stockwell Elastomerics manufactures gaskets and components for medical device applications that are non-implant and in an area of the device where there is no exchange of blood or bodily fluids using medical grade silicone rubber. Please view Stockwell Elastomerics' Support for the Medical Device Industry statement regarding fabricated and molded gaskets and related articles used in medical equipment.
Offerings for the medical device industry include:
Check out the web pages Medical Diagnostics Devices Applications for Silicone Gaskets and Cushioning Pads and Medical Grade Silicone Rubber and for more detailed information about these medical gasket and pad offerings. Please call Stockwell Elastomerics at 215-335-3005 or complete a contact form to make an inquiry.