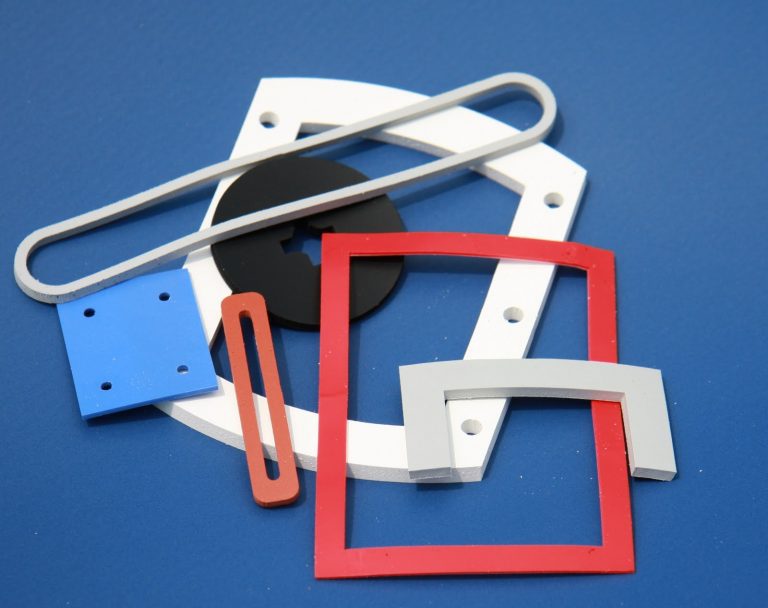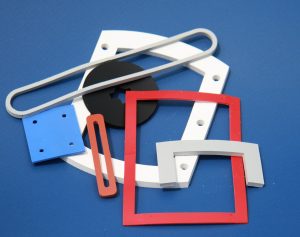 Silicone rubber is more often being specified for gasket material, especially environmental seals. Silicone is made in wide variety forms such as solid silicone sheets, closed cell silicone sponge sheets and open cell silicone foam. All of these are available in a range of durometers and firmnesses. Solid silicone is readily available in 10 to 70 durometer (shore A scale). Closed cell silicone sponges are available in a wide firmness range: soft, medium, firm and extra firm. Open cell silicone foams are available in similar firmness as the closed cell sponge but also offered in extra soft and ultra soft grades. The wide ranges of durometer and firmnesses allow engineers and designers to choose the best match for their application. For example, electrical enclosure gasket, door gaskets or NEMA enclosure gaskets often require soft sponge or foam to compensate for the limited compressing fasteners (most often latches). Firmer solid silicone or other rubber gaskets do not give enough to make a proper seal. Conversely, solid gaskets often are better for rigid enclosures with fastener schemes offering good even compression.
Other attributes that make silicone rubber attractive to designers its resistance to UV and ozone, a wide operating temperatures – typically -100°F to 500°F (see data sheets for specific operating temperature) and its excellent rebound properties. Many of these properties lend themselves to UL, NEMA and Mil-Spec requirements such as MIL-STD-810.
For applications assistance or more information about silicone rubber gaskets, silicone sheet products and custom gasket manufacturing, please call Stockwell Elastomerics at 215-335-3005 or complete a contact form for assistance.