Stockwell Elastomerics offers many different materials for customers to use for gaskets, pads, and other components, with a core competence in using silicone for many applications. The types of silicone typically used are solid silicone, sponge silicone or silicone foam. Here's a short guide on choosing between the three types of silicone rubber: silicone sponge, silicone foam, and solid silicone.
---
What is the Difference Between Solid Silicone, Silicone Sponge and Silicone Foam?
The most obvious difference is the cell structure of these three different silicone materials, as shown in these photos.
Solid Silicone
Notice there is no visible cell structure, only solid silicone material.
Silicone Sponge
This picture shows the closed cell structure of the silicone sponge material.
Silicone Foam
This picture shows the open cell structure of the silicone foam material. Most foams are open cell or "modified closed cell".
Foam, Sponge, Solid
Silicone foam (gray, top), silicone sponge (brown, middle), and solid silicone (red-orange, bottom) are pictured. Note the difference between the open cell foam (gray), closed cell sponge (brown), and solid (red-orange) structures.
---
Seal Rating
One easy and obvious way to determine which material will work best for an application is the seal rating that is needed. If a seal rating of IP67 or higher is required, then solid silicone in the best choice. The cell structures of both sponges and foams make it more challenging to meet the IP67 rating and testing is always recommended to confirm sealing capabilities.
---
Compression
Solid materials offer the best sealing capabilities but can be difficult to compress. Foams and sponges are much softer and can compress with a lot less force required. Solid materials will only require 15-20% compression, while at least 50% compression is needed for foams and sponges. For more details about compression or recommended squeeze for sealing, please see the Seal Design Guide blog post. The graph below illustrates the range of compression force required for the different types of materials.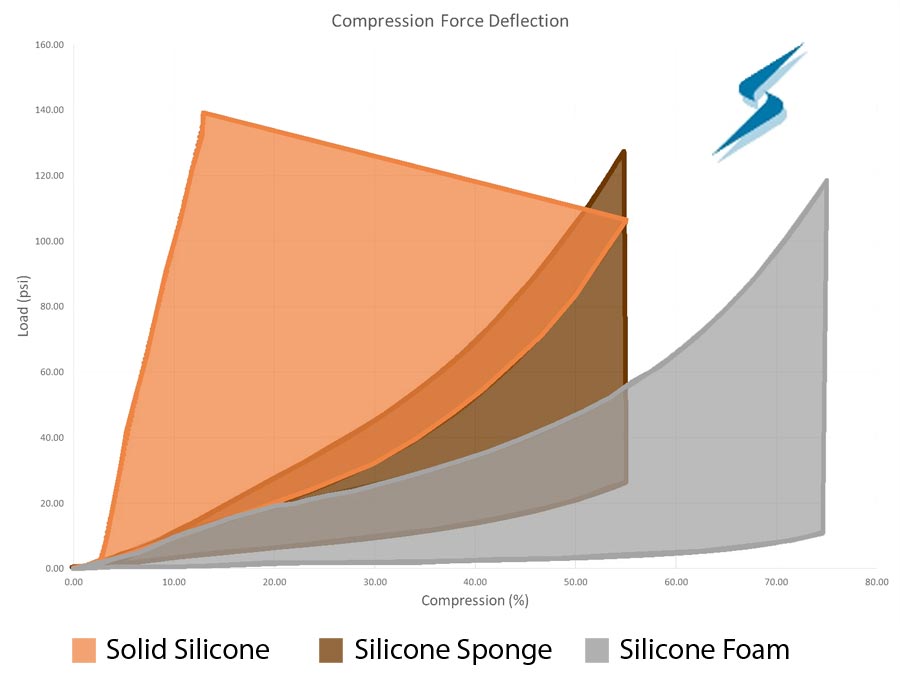 ---
Cell Structure and Temperature
The main differences between sponge and foam are the cell structure and the temperature capabilities. For most applications, closed cell versus open cell will not make a huge difference. Temperature wise, sponges are rated up to 500°F while foams are rated up to 400°F.
---
Get More Information or Request a Quote for Solid Silicone, Silicone Sponge, or Silicone Foam
Contact a Stockwell Elastomerics Applications Engineer for further assistance with gaskets and pads made with silicone sponge, silicone foam, or solid silicone.