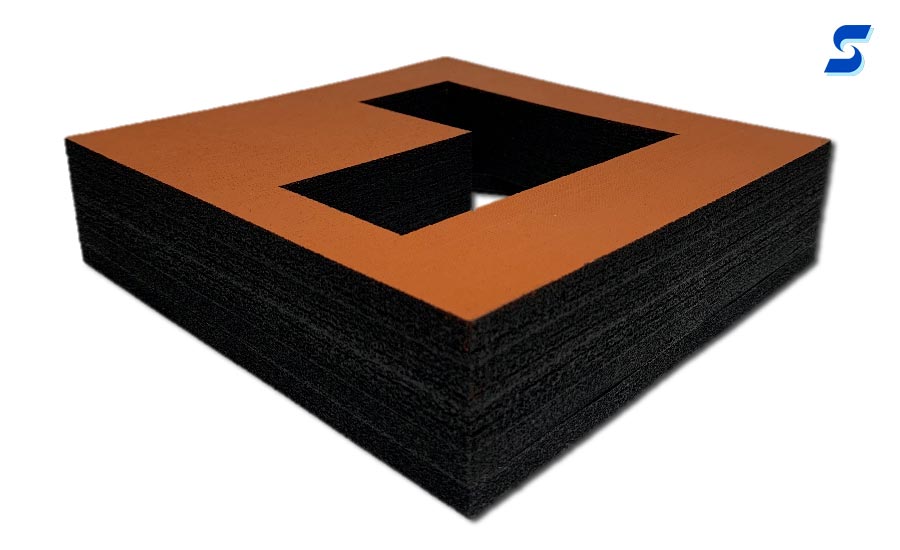 Silicone sponge has a reputation: it is known as a high performance, chemical resistant, low compression set, and low and high temperature resistant elastomer. One lesser known property of silicone is its inherent electrical insulation. Customers that perform testing on sensitive electronics, however, are quite familiar with this behavior of silicone. Plain silicone has a tendency to allow for static build-up which can discharge and damage expensive equipment, pose a safety risk, or interfere with testing. This phenomenon is known as electrostatic discharge (ESD).
This undesirable effect (in some applications) motivated Stockwell Elastomerics to develop its T62 conductive surface coating process, resulting in a line of closed cell silicone sponge products with conductive coating for ESD protection. This process impregnates the silicone material with conductive material that, once cured, becomes integral to the composition of the silicone sponge – there is no change to compressibility, resilience, or other mechanical properties. View the video demonstration below.
The table below shows the 3 standard grades of conductive coated sponge. A technical data sheet (PDF) is also available. These products provide a wide range of firmness values that are suitable for many different uses. Beyond the 3 standard products, custom configurations can also be created to meet specific application requirements.
Silicone Sponges with ESD Conductive Coatings
Material Name
Grade
Force
Deflection (PSI)1
Compression Set,
% Max2
Surface
Resistivity3
Available Thickness
S480‑62‑CON
Soft
2-7
5
2.0 x 104
.093″ to 1.0″
S470‑62‑CON
Medium
6-14
25
2.0 x 104
.032″ to 1.0″
S418‑62‑CON
Firm
12-20
15
2.0 x 104
.062″ to 1.0″
1 Force/Deflection, PSI (compressed 25% at 73°F) per ASTM D1056
2 Compression Set, %, (compressed 50% for 22 Hours at 212°F) per ASTM D1056
3Surface Resistivity is Ohms per square inch, determined by ASTM D257
Many customers have found use for this specialty product. Some common applications are aerospace cushioning, environmental test chambers, burn-in ovens, IC (integrated circuit) testing, and electronics assembly processes.
This proprietary process does not impede any of the benefits of silicone, nor does it affect manufacturability. Parts with this T62 coating can be die cut, waterjet cut, or flash cut to size. Stockwell Elastomerics can also supply conductive coated silicone sponge with conductive adhesive backing to maintain XYZ conductivity while providing the assembly aid of a pressure sensitive adhesive backing. A non-conductive adhesive backing can also be applied, which will not impede on the XY surface conductivity of the coated sponge.
---
Request a Free Silicone Sponge with
T62 Conductive Coating for ESD Protection
Sample For Evaluation
---
T62 Coating on Silicone Sponge Pad for ESD Protection Video
---
Get More Information or Request a Quote for Silicone Sponge Gaskets and Pads with Conductive Coating for ESD Protection
Contact a Stockwell Elastomerics Application Engineer for help with T62 coated ESD silicone sponge.