Closed cell silicone sponge and silicone foam gaskets are available in a range of firmnesses from very soft to extra firm. Cellular gasket materials may not be suitable for some applications such as IP67, NEMA 6 and NEMA 6P (water submersion). An alternative to soft cellular gasket material is molded low durometer silicone, but in some cases even a soft (10 durometer or 20 durometer) compound is still too firm. This is especially true for gasket applications requiring more tolerance "absorbing" or gasket travel, meaning the necessary percentage of gasket deflection is high, generating a significant amount of rebound force on an enclosure. These forces can bow or flex housings, creating gaps and ingress paths.
One approach to lowering compressive forces is to use a shape factor. Stockwell Elastomerics often molds gaskets with "sealing beads". These are custom ribs on the face of a gasket that offers progressive seal pressure. Molding offers design flexibility; the shape, height and number of beads can be custom designed to achieve the desired sealing force.
Example of a sealing bead vs. flat stock: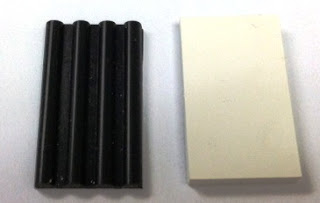 The above samples fit into the same X-Y-Z "envelope", but the ribbed material has a modified surface area, effectively reducing the forces required to achieve proper compression on the gasket.  Controlling gasket compression is critical; an over compressed gasket can damage the gasket or flex an enclosure, an under compressed gasket may leak initially or when water pressure is applied. Below are compression force deflection curves for the pictured material above. Both materials are 50 durometer liquid silicone rubber. The curves highlight how the shape factor makes the gasket seem softer within the same envelope.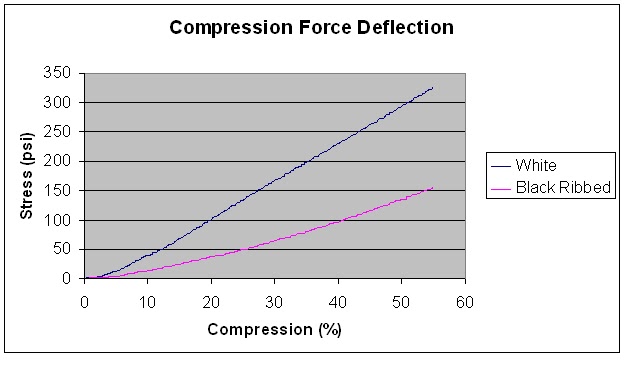 For more information on molded silicone gaskets, soft water jet cut gasket or other soft gasket materials, please call Stockwell Elastomerics at 215-335-3005 or complete a contact form for assistance.