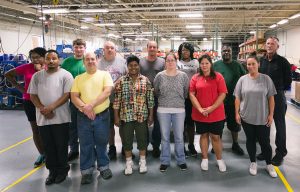 Stockwell Elastomerics Molding Operations
First Shift Crew
October is employee stock ownership month. And Stockwell Elastomerics is pleased to announce its new ESOP (Employee Stock Ownership Plan).
I made this announcement in a series of employee meetings earlier this October. Until now, the business was 100% owned by the family; now the employees will be beneficiaries of the new Stockwell Elastomerics Perpetuity Employee Stock Ownership Trust.
Why use the word Perpetuity? Perpetuity and Sustainability are my goals for the business and stakeholders of the business, including employees, customers, vendors and the neighboring community. Stockwell Elastomerics is a 4th generation privately held manufacturing business, founded in 1919. Our roots are deep in Philadelphia, and many of our 80 employees, including management, professional engineering staff and production staff live in the city. We are proud to be a successful Urban Manufacturing business.
I hope that even more employees now take even more interest in the details of the business. Especially in a custom manufacturing business, it's the little things that add up to providing great customer support and consistently high quality. I hope this ESOP builds even more engagement now and many decades into the future.
– Bill Stockwell
President
Stockwell Elastomerics, Inc.