The video below illustrates how thermal gap filler pads work. In this video TC-3008 is applied to the bottom of a beaker to minimize the air pockets and make better contact with the heat plate.
---
---
Below are several points to take notice of in the video.
• Variety of hardnesses and conductivity (0:06 sec) – from left to right, St. Gobian TC-2006 (violet), TC-3006 (green), TC-3008 and Bergquist Gap Pad Ultra Soft V0 (blue, white, mauve), more options available
• Soft gap filler pads (0:09 sec) – gap filler are usually measured on the Shore00 scale since they are very soft, they are easily squeezed by finger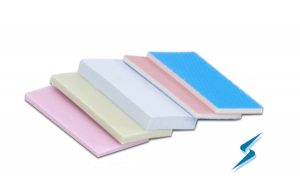 • Permanent deformation (0:11 sec) – thermal gap filler pads have a dough or gum like composition, they generally do not rebound fully after being compressed
• Toughness (0:12 sec) – since gap fillers are heavily loaded with conductive particles they can tear easily if handled roughly. This is not typically an issue due to how these material are used.
• Thermal pad was cut to size (0:19 sec) – parts can be cut into basic or complex geometries.
• Release liners (0:25 sec) – gap filler pads are supplied with lines since they are tacky.
• Fast install and no greasy mess (0:28 sec) – pre-cut, tacky gap fillers, install quickly without messy grease or paste.
• Tacky gap filler (0:34 sec) – generally there is no adhesive applied to gap filler but they are tacky enough to stick in place as shown being stuck to the bottom of the beaker.
• High temperature (0:44 sec) – thermal gap filler pads have a typical operating temperature of 200°C (392°F).
• Heat transfer (0:47 sec) – the video illustrates the enhanced heat transfer to the beaker which brings the beaker with the thermal gap filler to a boiler faster. Note: this is not an intended use of these gap filler pads.
• Why to choose thermal gap filler from Stockwell Elastomerics (0:57 sec) – less air entrapment, more surface contact, better heat transfer.
For help selecting a Gap Pad, thermal gap filler, or thermal interface material (TIM), please call Stockwell Elastomerics at 215-335-3005 or complete a contact form for assistance.