Stockwell Elastomerics regularly provides custom EMI gaskets for a wide range of customers. Each application is a bit different; some can be cut from "off the shelf" sheets of nickel graphite filled silicone and others may require special fluorosilicone compounds or silver plated particle filled silicone for more conductivity. Generally materials are .062″ thick or thinner with a few conductive compounds available up to .125″ thick. So what are the options for thicker EMI / NEMA seals? Below are a few pros and cons for different manufacturing techniques for EMI gaskets.
Option 1 – Mold the Gasket
Pros: You can control your design – sealing beads and 3 dimensional shapes are possible. Material savings – EMI compounds cost more that unfilled non-conductive compounds. Compression molding minimizes raw material waste.
Cons: Molds are more costly than tools used in die cutting, and molded parts have longer production lead times than die cut or water jet cut gaskets.
Option 2 – Mold Sheets and Waterjet Cut
Pros: If a part is smaller or there is little center waste, molding sheets from a standard sheet mold and then waterjet cutting the part geometry may be most feasible. This option offers flexibility in material thickness (.020″ to .500″), conductive adhesive backings, and there is no tooling charge for the waterjet cutting process if a CAD file is provided. Lead times for this option are relatively short based on using our in-house 12″ x 12″ sheet tooling.
Cons: Geometries are limited to 2 dimensions and there is some edge and center waste.
Option 3 – Use Non-Conductive Sponge or Foam with a Bonded Conductive Wire Mesh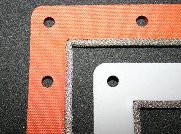 Pros: This option offers another range of flexibility. Stockwell Elastomerics uses its core silicone foams and silicone sponge products (with or without adhesive backing) and bonds a Monel (nickel/copper alloy) wire mesh to the inside or outside edge of a gasket. This option offers lower compression forces, UL 94V-0 foam option, closed cell sponges and a variety of thicknesses cut from standard, readily available roll or sheet stocks. Waste is less costly due to the non-conductive and expanded polymer. Lead time for smaller or initial volumes is relatively quick.
Cons: Geometries are limited to 2 dimensions. There is some assembly which may require scheduled shipments. Heavy compression and release cycles may disturb the mesh to polymer bond.

For more information about custom EMI gaskets and EMI shielding materials, please call Stockwell Elastomerics at 215-335-3005 or complete a contact form for assistance.