The picture below is a demonstration piece made to show how Stockwell Elastomerics' 3 waterjet cutting units are able to cut complex geometries with ease. A steel ruled tool or solid steel tool would be relatively expensive and still would not offer tolerances equal to the waterjet cut parts. As a service to our customers, Stockwell Elastomerics will waive the programming setup charges if a CAD file is provided.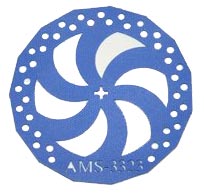 This piece was waterjet cut from fluorosilicone sponge that meets the AMS-3323 requirements. Fluorosilicone is most commonly used in the aerospace industry when chemical resistance is required in conjunction with good mechanical properties at low and high temperatures. We often do waterjet cutting on varieties of materials for silicone gaskets and silicone pads including solid silicone, silicone sponge, and silicone foam. Aside from silicone products, we are able to waterjet cut the vast majority of our materials. Stockwell Elastomerics has hundreds of materials such as urethane foam, thermal gap fillers, EMI material, ESD material, high grade nitrile, and EPDM sponge, just to name a few. In many cases using the waterjet can offer cost savings especially with more costly materials such as conductive silver filled fluorosilicone where better yields are possible.
For applications assistance or more information about waterjet cut gaskets, please call Stockwell Elastomerics at 215-335-3005 or complete a contact form for assistance.